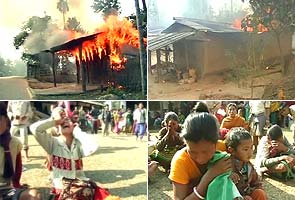 Guwahati:
Four people were killed and more than a thousand displaced after ethnic clashes broke out between the Rabha and Garos communities along the Assam-Meghalaya border in the Goalpara district of Assam and East Garo hills. At least 15 villages were set on fire in retaliatory violence and the situation is very volatile.
Curfew has been imposed in the East Garo hills. Additional forces have been rushed to Meghalaya to help out in maintaining law and order.
The violence started during Christmas and New Year celebrations when the Rabhas attacked a wedding party of the Garos and also targeted a Garo pastor. The Garos hit back and set Rabha villages on fire. They also intercepted a passenger bus, segregated the Radhas and brutally injured ten of them. Two of them are reportedly in a critical condition.
The Garos looted shops at some places and the police had to resort to firing to disperse them.
Reports also suggest that nearly a thousand Rabhas have huddled around an army post in fear of further attacks from the Garos.
H K Rabha, a government official said, "We have been requesting all police stations around in Meghalaya as well as Assam but they refuse to come and help. They just don't care."
The army is providing humanitarian assistance to the displaced people.
The Rabhas, meanwhile have called for a 500-hour economic blockade to protest against the attacks.
There has been an undercurrent of tension between the two ethnic groups at the border area since long over the demand for Autonomous Councils.