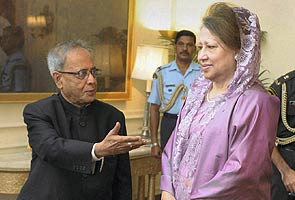 New Delhi:
Former Bangladesh prime minister Khaleda Zia on Saturday met President Pranab Mukherjee and discussed the two neighbours' long and lasting relationship.
The president enquired about her visit to the Sufi shrine at Ajmer Sharif, a press statement said.
"He (president) said India admires Begum Zia's contribution to the development of Bangladesh both as the prime minister and leader of opposition," the statement added.
"India attaches the highest importance to our relations with Bangladesh which is a close neighbour," the statement said.
Zia, who had arrived in India on October 28, also had meetings with Prime Minister Manmohan Singh and External Affairs Minister Salman Khurshid. She also met Sushma Swaraj, leader of the opposition in the Lok Sabha, National Security Adviser Shivshankar Menon and Foreign Secretary Ranjan Mathai.
"He (president) called for the establishment of close and friendly relations between India and Bangladesh and said there exists tremendous potential for cooperation between the two countries. It is possible to change friends but not neighbours.
"The two countries must live in a friendly atmosphere and do their utmost to strengthen cooperation in all fields. He also reiterated the determination of India to address all concerns of Bangladesh," the statement said.
"She (Zia) reiterated the commitment of her party to the establishment of strong and friendly relations with India," the statement added.
Zia last came to India on an official visit as the prime minister of Bangladesh in 2006.