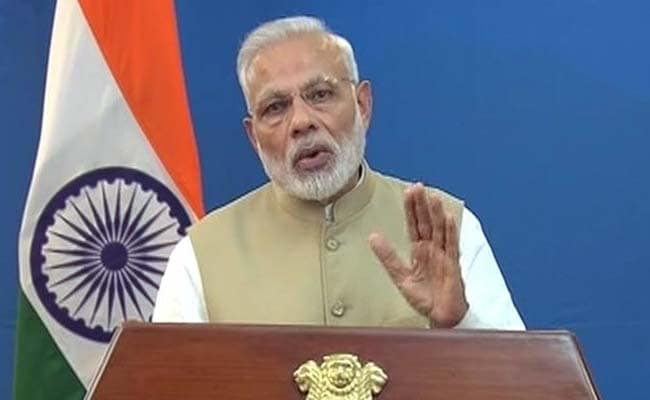 Highlights
Rs 500, Rs 1000 notes banned, 86% of currency in circulation taken off
98% consumer payments in India still made in cash
Digital wallets like Paytm, Freecharge to gain from the move
Cash may no longer be king in India. The nation's nascent digital economy stands to be the biggest beneficiary from its strongest crackdown on corruption since 1978.
In a surprise announcement late Tuesday, Prime Minister Narendra Modi banned 500-rupee ($7.50) and 1,000-rupee notes effective midnight, sweeping away 86 percent of total currency in circulation.
Paytm, India's largest digital wallet startup, hailed the move in the morning newspapers as it splashed Modi's photograph in a full-page advertisement.
"This is the golden age to be a tech entrepreneur in India. Specially a fintech one," tweeted Vijay Shekhar Sharma, the founder of Paytm, whose investors include Alibaba Group Holding Ltd. "Keep the money digital."
In a nation where 98 percent of consumer payments are still made in cash and about a quarter of the $2 trillion economy is unaccounted for, Modi's pushing for electronic transactions to improve transparency. The latest move is estimated to more than double annual growth at payment companies.
Transaction volumes at companies including Itz Cash Card Ltd. could increase about 120 percent each year over the next few years instead of the 50 percent gain previously estimated, said Managing Director Naveen Surya, who's also chairman of representative body Payments Council of India. "This is a strong and loud signal that physical cash is no longer welcome."
India's technology services trade body Nasscom termed Modi's move a "masterstroke," and Bhavish Aggarwal, co-founder and chief executive of ride-sharing app Ola, said it's the first major step toward a cashless economy.
Paytm will achieve its three-year targets within one year, Sharma told Mint newspaper. Freecharge saw an "unprecedented" 12-fold jump overnight in its average wallet balance, the company said in a statement on Wednesday.
Consumption Hit
Stocks and the rupee -- already hit by the possibility of a Donald Trump victory at the U.S. presidential elections -- slumped on Wednesday as investors grappled with a potential near - term drop in consumption. Global giant Amazon.com Inc.'s India unit said it would no longer accept the scrapped notes for existing orders. Cash-on-delivery has been the preferred payment method for more than half of total transactions in India's e-commerce industry.
The impact also risks hurting rural India, where demand has just been recovering after healthy rainfall this year following back-to-back droughts. About 75 percent of the population live in villages, mainly earning daily wages in cash.
To bring each of India's 1.3 billion citizens into the financial system and remove unaccounted cash, Modi started a massive campaign in 2015 to open no-frills bank accounts. He's betting that this initiative, together with biometric identifiers to cut illegal payments and more mobile payments, will ensure a cashless future and reduce opportunities for graft.
India is also planning to ban cash transactions of more than 500,000 rupees, said people with knowledge of the matter, asking not to be identified as they aren't authorized to speak with the media.
It's crucial for Modi to be seen tackling corruption before state elections next year and a national contest in 2019. Concern about corruption has risen to levels last seen before Modi swept to power in 2014, a Pew survey showed in September, though Modi still remains India's most favored leader.
Tuesday's "bold move will push all those fence-sitters to make a jump into the world of mobile and digital banking," Ashutosh Khajuria, chief financial officer at Federal Bank Ltd. said in a phone interview. "The learning curve will be steeper and faster as this innovative move has pushed people against a wall and is forcing them to change transactions into lesser cash intensive ones."
(Except for the headline, this story has not been edited by NDTV staff and is published from a syndicated feed.)