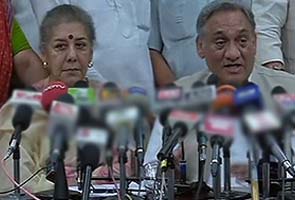 Dehradun:
Senior Congress leaders who rushed to Uttarakhand yesterday, seemed to be engaged in some focused damage control with Ambika Soni even saying sternly that if anyone handed out wrong information, it would be treated as indiscipline.
From the tragic site of death and destruction that picturesque Uttarkhand has become in the last two weeks have emerged many conflicting reports. With many places rendered inaccessible for days it has been impossible for authorities to spell out the extent of damage to life and property. The state's political leaders have constantly been quoting different figures, often alarming. Ms Soni, who has charge of Uttarakhand as a Congress general secretary, seemed to be warning against that.
On Saturday, the Uttarakhand Speaker stunned people by claiming that over 10,000 people have died in the floods in Uttarakhand. The state's minister for disaster management, Yashpal Arya, cut the figure by half soon after, saying the death toll could be around 5000.
Because of such statements, Chief Minister Vijay Bahuguna has been battling allegations for the past two days that his government is trying to obfuscate the real number of casualties. Mr Bahuguna has refuted this saying, "We don't have anything to hide. We will not brush anything under the carpet. But there are procedures to be followed."
When Vijay Bahuguna was appointed Chief Minister over a year ago, there was open opposition within the Congress. To the point of rebellion. Now the multiplicity of voices is only adding to the confusion at a time the state faces its worst disaster.
That is perhaps why senior leaders like Ms Soni and Jairam Ramesh were sent to Uttarakhand yesterday.
The Congress is already engaged in a bitter and often unseemly war of words over Uttarakhand with the Opposition, especially the BJP, which has attacked the government it runs it Uttarakhand as "inept." It can ill-afford a crisis within.