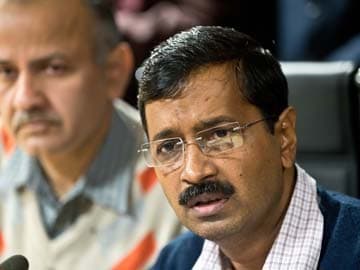 New Delhi:
The Aam Aadmi Party government today stepped back from a confrontation over its anti-graft Jan Lokpal Bill and decided to circulate it for a preview by lawmakers before tabling it in the Delhi assembly.
Chief Minister Arvind Kejriwal's battle to push his pet proposal, however, is set to become tougher with the main opposition BJP saying it will not support any unconstitutional move. The Centre has said that Mr Kejriwal's bill cannot be tabled in the Delhi assembly without its consent and if it is, then it will be a violation of the Constitution.
"We will support the bill if it is legal. We will not allow any violation of the Constitution," said BJP leader Harsh Vardhan.
Mr Kejriwal has threatened to quit if his pet proposal, which creates an ombudsman or "Lokpal" to investigate corrupt government officers, is not tabled. He has rejected the Centre's view that the bill cannot be debated by Delhi legislators till it is vetted by the union Home Ministry under a 2002 law, as the Jan Lokpal would be funded at least in part by the Centre.
"The Lieutenant-Governor has the right to advise the Delhi government that they can't introduce the bill since it might violate the Constitution, a bill must not be presented until the President's consent," Union Law Minister Kapil Sibal said on Wednesday.
The Law Ministry has advised Lieutenant Governor Najeeb Jung that he can red flag Mr Kejriwal's bill even if it is cleared by the Delhi assembly as it overlaps with the national Lokpal law passed by Parliament in December. Sources say the Congress, which provides external support to AAP and does not want to be seen as opposing an anti-corruption measure ahead of the national election, due by May, could see this as a way out of their dilemma.
Today, the AAP government has to reply to the Delhi High Court's notice to justify its proposed public session at a city stadium to discuss the Jan Lokpal bill, despite security concerns.