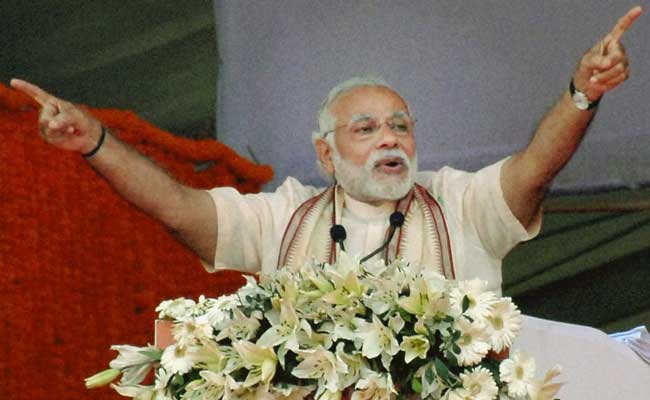 Highlights
New slogan seen as an extension of 2014 slogan - "Abki Baar Modi Sarkar"
It focusses on centre's development projects, and its "clean intentions"
The party has planned a blitzkrieg to mark its four years at the centre
New Delhi:
As Prime Minister Narendra Modi's government completes four years, the ruling Bharatiya Janata Party has started prepping for next year's general elections with its list of achievements and a new slogan that seeks to focus not just on development projects being executed by the centre but also underscore its "clean intentions". That, the BJP feels, would be a sharp contrast to the public distrust towards the Congress-led UPA that had ruled the country for the decade before the BJP won a massive mandate to rule India and took power.
Prime Minister Narendra Modi is flying to Cuttack in Odisha tomorrow to address a public function to mark four years of his government, a state that sends 21 lawmakers to parliament but voted the BJP from only one constituency. The BJP believes the party is within striking distance of a significant improvement in its performance in the 2019 elections.
In Delhi, BJP president and its master strategist Amit Shah will hold fort, addressing a media event on completing four years, seek to establish how the government's initiatives over four years had improved millions of lives and also, unveil the party's pitch for a second term.
A three-minute video on how various schemes and decisions had impacted the lives of people focuses on the improvement in the quality of life of people in a rural setting, putting numbers to the people who have benefited.
The tag line is "
Saaf Niyat, Sahi Vikas
" (Clean Intentions, Right Development) and the punch line - "
2019 Mein Phir Modi Sarkar"
- is seen as an extension of the BJP's slogan for the 2014 elections, "
Abki Baar Modi Sarkar
".
A blitzkrieg planned by the government in Delhi and across the government is expected to focus on comparing
48 months of PM Modi's government with the previous 48 years
, projecting the BJP-led national coalition that has fast-tracked development projects.
Providing electricity to 18,000 villages that the government says had no access to power till 2014 will be
projected as a milestone
. A village
is declared electrified
if 10 per cent of the households along with public places like schools and health centres have electricity. The government plans to provide electricity to every household by the year-end under the Saubhagya scheme.
Another initiative,
free cooking gas connections
to poor families, that the BJP believes has helped widen its support base, especially in rural areas, will be heavily publicised with the tagline "four crore poor families received gas connection, five crore more left to go".
The
bullet train project
that aims at developing a high speed rail corridor between Mumbai and Ahmedabad will be presented as the rail ministry's biggest success so far. In its promotional campaign, the government will use the bullet train as a metaphor for what it calls fast-paced development during the last four years.