Highlights
CCTV footage captures when BMW rammed auto in Jaipur
Police say Siddharth Mehria, son of an independent MLA, was driving drunk
Siddharth, arrested, denies charge; says driver was driving car
Jaipur:
The footage is spotty and dark. But what is unmistakable is a large car, trawling down the road at breakneck speed and smashing into an auto-rickshaw at the intersection.
Three people in the auto-rickshaw were killed by the impact yesterday in Jaipur around 2 am. Five others - including four policemen who were in a parked police van into which the white BMW crashed into next - were injured.
Police have arrested 20-year-old Siddharth Mehria, the son of independent Rajasthan legislator Nand Kishore Mehria, for the accident. They say he was driving the car recklessly and was drunk.
"He was driving at least at 100 km an hour," said Rajju, one of the four policemen who were injured. The auto-rickshaw, which was first hit, was flung around 200 feet from the impact, witnesses said.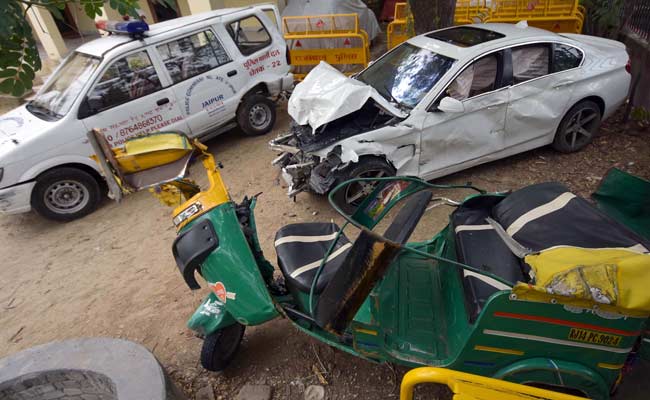 A senior police officer Manoj Aggarwal said Mr Mehria's breathalyser test showed he had consumed alcohol five times over permissible levels for driving. "We will send his blood sample to the forensic lab to verify," he said.
Rejecting the charges, the politician's son has said that it was his driver - produced in court today - and not him who was driving the car at the time of the incident.
"The whole thing happened because of the rain and there were no lights on the road. The auto was crossing the road at a great speed," Mr Mehria said.
Angry relatives of the victims staged a protest outside the police station, saying the accused was being given VIP treatment.
"Does the law have a conscience? That man inside your police station has murdered three people and he is sitting in an AC room," said one of the relatives.
The police then hurriedly put Mr Mehria in a lock-up, the relatives alleged.
A court sent him to police custody for one day today. He is likely to apply for bail tomorrow.