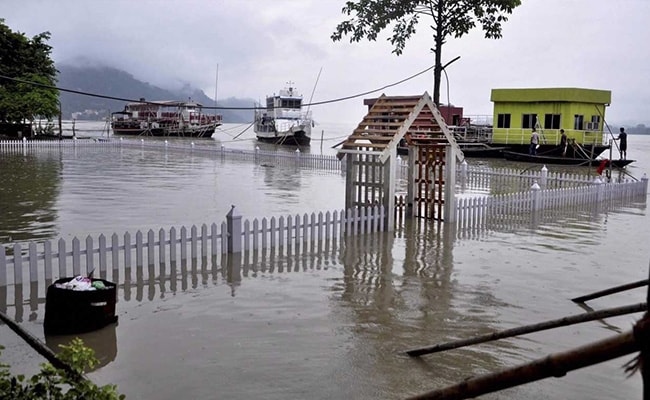 New Delhi:
As Assam and Bihar struggle with floods unleashed by unprecedented rains that have killed many and affected lakhs, Prime Minister Narendra Modi has promised all help to flood-hit states. Nearly 20 lakh have been severely hit in Bihar. The second wave of floods in Assam within a month has affected over 22 lakh. The flood situation is likely to worsen with the Met department forecasting heavy to very heavy rain in neighbouring West Bengal, Meghalaya and parts of Assam till Wednesday. The rail services to northeast from the rest of the country have been suspended till August 16, Northeast Frontier Railway official said.
Here are 10 updates on the flood situation in the country:
The state authorities have accelerated rescue and relief operations amid reports of 10 more deaths in the last two days in flood-hit Assam. Continuous erosion by Kundil river has become a serious threat to Panchmile, Lakhimi Gaon, Bogoribari, and the Kundil Bridge. PM Modi spoke to Chief Minister Sarbananda Sonowal and promised all support from Centre.

The Chief Minister visited a flood relief camp in Panchmile to take stock of arrangements. He said the state government is working to find a permanent solution to the recurring floods.

Incessant rains in the last three days in neighbouring Nepal, coupled with heavy rains in Bihar have flooded Kishanganj, Purnea, Araria and Katihar districts. Swollen rivers like Mahananda and Kankai made matters worse. So far, at least 10 persons, including women and children, have been killed in the floods.

Numerous trains have been cancelled due to waterlogging at the Narkatiaganj yard. Chief Minister Nitish Kumar has asked for an additional deployment of 10 companies of the National Disaster Response Force (NDRF) and Indian Air Force's helicopters to carry out relief and rescue operations. "Centre assures all support to Bihar government to mitigate the flood situation. Teams of @NDRFHQ are in Bihar for rescue and relief work," PM Modi tweeted today.

Flood fury has claimed at least three lives and affected over five lakh people in West Bengal. Rail and road communication has been severely hit. Cooch Behar district was virtually cut off from the rest of India with vehicular and train movement coming to a stop. Around 2.87 lakh people were displaced in Cooch Behar, and another two lakh in Jalpaiguri and Alipurduar districts and over 50,000 were hit in Malda, North Dinajpur, Darjeeling and South Dinajpur districts.

The National Highway 31 is under water at Maruganj of Toofanganj block. Speedboats have been deployed while NDRF personnel have been engaged in rescue operations in Cooch Behar, Alipurduar and Jalpaiguri districts. In Siliguri, most parts of Naxalbari and Matigara blocks are under water.

At least 46 people were killed in a massive mudslide yesterday that gobbled up a 150-metre stretch of road, homes, two buses and vehicles in Himachal Pradesh's Mandi. Only five injured could be rescued in a day-long operation and 23 bodies are yet to be identified, officials said. Chief Minister Virbhadra Singh visited the spot and announced an ex-gratia of Rs 5 lakh for the dead.

Incessant rain in the last five days has wreaked havoc in Meghalaya and claimed three lives. Nearly 800 people were rendered homeless in South and West Garo Hills district in western Meghalaya, officials said. There were reports of flash floods and landslides in different parts of Khasi Hills. Chief Minister Mukul Sangma has been monitoring the rescue operations.

The flood toll in Gujarat has risen to 218 this monsoon, with 61 people killed in worst-hit Banaskantha district, an official said. Floods due to torrential rain and release of water from dams affected 4.5 lakh people in the state, with over 39,000 people shifted to safer places and 11,400 rescued last week by teams of the Army, Air Force and National and State Disaster Response Forces.

As many as 20 states have been affected during the current southwest monsoon season. According to available information, 600 people have lost their lives, 24,811 cattle heads have perished, 63,215 houses/huts damaged and about 2.8 lakh hectare of crop reportedly affected due to heavy rains, floods and landslides.