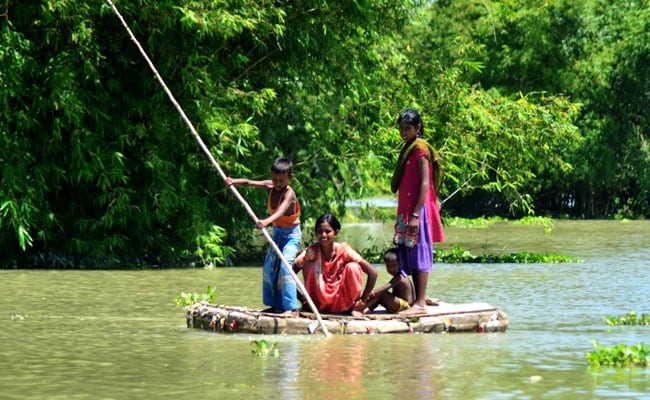 Guwahati:
With heavy rains for last four days, parts of northeast India are facing extreme flash floods and the situation has turned extremely grim the past 24 hours. The states of Assam, Tripura, Meghalaya and Arunachal Pradesh have been badly hit and the weather department has issued a red alert till Sunday.
In Assam, 19 districts are once again under flood waters. The fresh wave of floods has submerged upper and lower Assam, affecting nearly 10 lakh people. Four people have died in floods in Assam in past 24 hours.
According to Assam Disaster Management Authority, over 63 thousand people have taken refuge in 268 relief camps in the state as over 1,750 villages are marooned. Over 1 lakh hectares of cropland has also been submerged.
The National Disaster Response Force (NDRF) is conducting rescue operations across the state. The army has also been put on standby for emergency rescue operation, sources added.
The worst affected are Dhemaji, Lakhimpur, Tinsukia and Dibrugarh in upper Assam and Chirang, Kokrajhar and Bongaigaon in lower Assam.
The swollen Brahmaputra is flowing above the danger level at several places and water level is rising 5 cm every few hours. Nine other rivers are also flowing above danger mark in Assam.
In Tripura, state capital Agartala is waterlogged. Nearly 20,000 people have taken shelter in relief camps in Agartala and suburban areas after an unprecedented nearly 200 mm rainfall was recorded by the meteorological department, which predicted heavier showers for the next 24 hours till Sunday evening.
A report of the State Emergency Response Centre of the Disaster Management wing said several major rivers, including Howrah River, which passes through the capital city, were flowing above the danger mark.
In Meghalaya, the Kynshi River is flowing above the danger level, inundating low lying areas in Kauai hills. Parts of Garo hills are also cut off from the rest of the state. The worst-affected area being the South Garo Hills, particularly Baghmara town, where over 100 families have moved from their houses to safer grounds.
In Arunachal Pradesh, the unrelenting monsoon rainfall is creating havoc across the state with reports of floods and road blockades pouring in from various quarters. In the capital Itanagar, National Highway 415 in Karsingsa has been affected again as a large portion of the road caved in on Friday morning due to water logging, leaving several passengers stranded. Heavy rains have badly affected train movement in the region. Almost all trains are running late in North Bengal due to continuous rainfall.