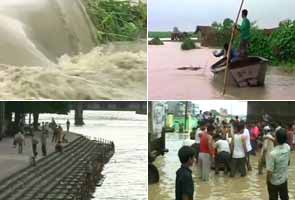 New Delhi:
There seems to be no respite from rains and flood like situations for many parts of north India. Uttarakhand and the western districts of Uttar Pradesh have been the worst hit.
In Delhi, the Yamuna is flowing above the danger mark by about a metre, after the Hathnikund dam in Haryana released water once again. The rising water levels forced the closure of the railway bridge over the Yamuna disrupting the movement of trains to the old Delhi Railway Station.
In Mathura, a famous Govardhan temple has been completely submerged.
The water in the Ganga at Haridwar may have receded slightly on Tuesday, but the problems haven't ended. The heavy rains have triggered huge landslides in several parts of the hill-state.
Travel to and from Haridwar has been severely disrupted with the highway to Haridwar closed and railway tracks and tunnels blocked.
"I had to travel with the family on bus because trains services have been suspended. It was really difficult to travel all this distance," said Manoj Kumar, a passenger.
Barely 100 kilometres from Haridwar, lies Rodraprayag en route to Badrinath, a well-known pilgrimage spot. Many pilgrims from across the country have been stranded here because the roads are completely blocked which means they can neither go further, nor return.
In Uttarakhand, more than 5000 people have already been evacuated from 550 villages and 1200 kilometres of roads including several national highways have been completely damaged forcing Sonia Gandhi to make an aerial survey of the hill-state and adjoining affected districts in Uttar Pradesh on Tuesday.
In 4 districts of western Uttar Pradesh, 170 villages have completely drowned in the flood waters from the river Ramganga which is flowing dangerously close to the danger mark.
The Lucknow-Delhi route continues to be flooded. Another highway which was an alternative route has now also been blocked.
More than 100 villages have been badly affected in Lakhimpur Kheri, with the all roads leading to Dudhwa National Reserve almost completely blocked. There is almost three-feet-deep water on the highway.
Last year, people from Uttarakhand and Uttar Pradesh were praying for the rains to come, this year, they are praying for them to stop.