Mumbai:
In a big push forward for modernization plans for the Navy, the first of six French-designed Scorpene submarines which are being manufactured in Mumbai, was launched into the water today, initiating the process for extensive trials.

The diesel-electric submarines are being built at the state-run Mazgaon docks in Mumbai; they are expected to be inducted into the Navy by 2018, about four years later than planned. The project has also over-shot the budget by nearly Rs 5,000 crore and is expected to cost about Rs 23,000 crore. "One (Scorpene) submarine will be delivered every nine months," said Defence Minister Manohar Parrikar.

China's increasing undersea prowess has highlighted how much India is lagging behind with a rundown fleet. India's Navy currently has 13 ageing diesel-electric submarines, only half of which are operational at any given time due to refits.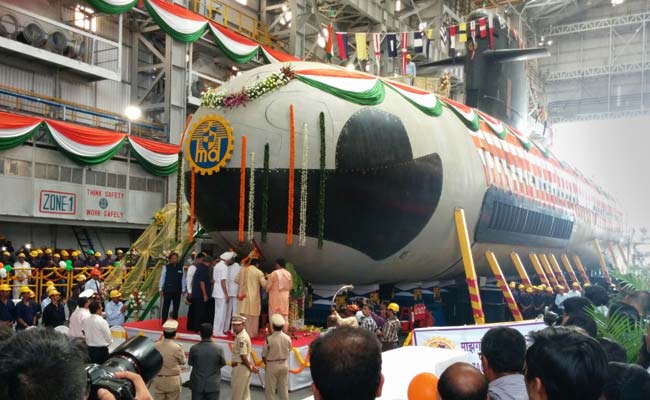 To replace a nearly 30-year-old fleet hit by a run of accidents, Prime Minister Narendra Modi's government has ordered an accelerated tendering process to build six conventional diesel-electric submarines at an estimated cost of Rs 50,000 crore ($8.1 billion), in addition to the Scorpenes that the French firm DCNS is assembling at the Mumbai port.


The country's first indigenously built nuclear submarine, INS Arihant - loaded with nuclear-tipped missiles and headed for sea trials this month - joins the fleet in late 2016. India leased a nuclear-propelled submarine from Russia in 2012.
The government has already turned to industrial group Larsen & Toubro Ltd, which built the hull for the first domestic nuclear submarine, to manufacture two more, according to some reports.