Investigations into the extortion calls made to filmmaker Mahesh Bhatt have revealed that the accused, who has been arrested, had called up seven celebrities before reaching out to Bhatt.
He had called up the seven posing as their fan and seeking monetary help; when none of them agreed to help him, he decided to extort money and called up the filmmaker.
On Wednesday, Bhatt had registered a complaint with the local police, saying death threats had been made to him and his family by a person trying to extort money from him. Following the complaint, Mumbai police's Anti-Extortion Cell (AEC) and Uttar Pradesh's Special Task Force (STF), from where the call had come, had swung into action and arrested one Sandeep Sahu, a Bollywood aspirant.
The police found numbers of other Bollywood celebrities in Sahu's phone. Investigators will soon approach them to come forward in the case.
Posing as a don
Superintendent of police, STF (Lucknow), Amit Pathak told mid-day, "Sahu had been calling Bollywood celebrities since November 2016, asking all of them for money. When he failed to get a positive response from anyone, he called up Bhatt and threatened him posing as Bablu Shrivastava, an Underworld gangster from UP, who is serving life imprisonment in Bareilly Central Jail."
Casting calls
According to the police, Sahu came to Mumbai to try his luck in Bollywood. He stayed for four months in Andheri and invested R2 lakh to get a foothold in films. But he failed to and returned to Uttar Pradesh. Back home, he searched online and got Bhatt's mobile number and started threatening him.
Bhatt received the first call on February 18, which he answered. On hearing the caller demand money, he hung up and ignored his subsequent calls and text messages, which included his bank account details, with the warning that Rs 50 lakh be put in it. When he started threatening him, Bhatt approached the police.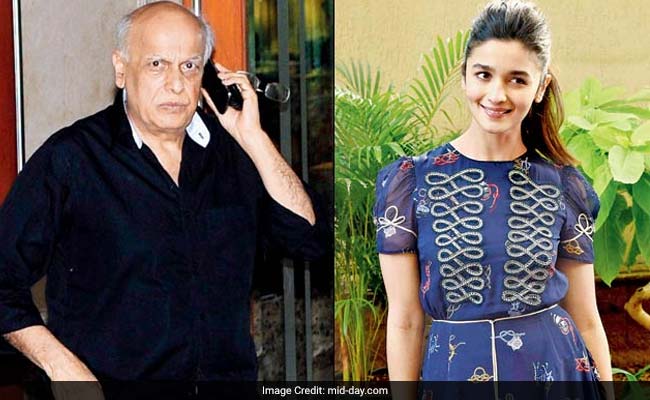 The AEC, through his bank account and branch, got an address and shared it with the UP STF officers, who reached there but found no one. They later managed to get Sahu's new address and arrested him from Aminabad.
Mumbai police spokesperson Ashok Dudhe told mid-day, "Our team went to UP to arrest him. His transit remand was taken for further investigations."
Debt burden
Sahu worked in a cloth shop for five years, and after that joined a finance firm and started working as a collection agent for a monthly salary of Rs 15,000.
In 2015, he borrowed R8 lakh from a relative and started his own business, a shoe shop. But he faced losses and, unable to sustain it, shut it down. His relative then started asking him to return the money he had borrowed. That's when he came to Mumbai to try and earn big in films. That didn't work out and he returned home, after which the relative again started asking him for money.
A crime branch source told mid-day, "He was stressed because of his debt. Hence, he went online and managed to get the phone numbers."
(This story has not been edited by NDTV staff and is auto-generated from a syndicated feed.)
Get Breaking news, live coverage, and Latest News from India and around the world on NDTV.com. Catch all the Live TV action on NDTV 24x7 and NDTV India. Like us on Facebook or follow us on Twitter and Instagram for latest news and live news updates.