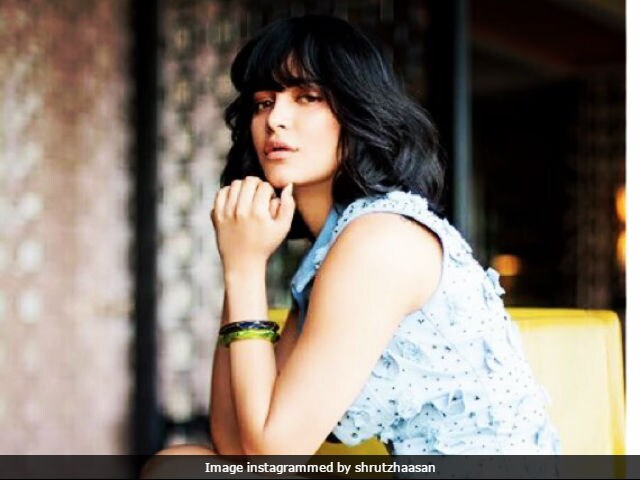 Highlights
Shruti was fat-shamed after she gained weight for her Behen Hogi Teri
Shruti: What people write about me on social media does not bother me
Shruti: To maintain an 'acceptable' figure for an actress is impossible
New Delhi:
Actress Shruti Haasan has warned off body-shamers in an interview to
mid-day
, saying that how she chooses to look is 'nobody's business' but hers and that she's 'not answerable to anyone.' Shruti, 31, was recently fat-shamed after she gained weight for her new film
Behen Hogi Teri
. Accusations of a lip job were also renewed. Speaking to
mid-day
, Shruti said, "It's my face, my body. What I do with it is nobody's business. What people write about me on social media does not bother me. I am not answerable to anyone." Shruti Haasan has put on eight kilos to play the character of Binny in
Behen Hogi Teri
, something she told
mid-day
earlier was a stipulation of the role.
"Given the family and background that my character Binny Arora comes from, it was essential that she look fuller. Thankfully, gaining weight paid off, given the amazing response our trailer received," Shruti Haasan told
mid-day
.
Shruti also addressed the unforgiving standards of beauty that actresses are held to, from which is no deviation is countenanced. "Looking good is part of our job, but the unnecessary chatter about weight must be filtered. To maintain an 'acceptable' figure for an actress is impossible. We are human. We gain and lose weight for roles, and sometimes naturally too," she told
mid-day
.
For her pains with
Behen Hogi Teri
, Shruti Haasan was welcomed to the 'fat club' on Twitter.
@9XETheShow@kittupari31@Shruti_Haasan - Finally you are fat! Congratulations and welcome to the #FlatClub

— Anshul (@VividhBharthi) April 1, 2015
Her alleged lip job was also discussed, resurrecting a controversy from last year:
Why on Earth did Shruti Hassan get a lip job done. She was the prettiest young thing to come on screen and now. What la.

— richa singh (@richa_singh) June 7, 2017
Shruti Hassan has done a lip job as well. Sab Anushka k peeche kyo pare ho bekar me??

— Sumedha (@DesiQuinzel) December 16, 2016
Behen Hogi Teri
also stars Rajkummar Rao and has been directed by Ajay K Pannalal. The film is scheduled to release in theatres on June 9.
After
Behen Hogi Teri
,
Shruti Haasan will be seen Sabaash Naidu, which has been directed by her father Kamal Haasan
. "I am doing Saabash Naidu with dad in Telugu and Tamil. There is some shooting left but our fans will soon be able to see us together in the same film. We are trying to finish that really fast," Shruti told NDTV.
Saabash Naidu
is scheduled for release in November.