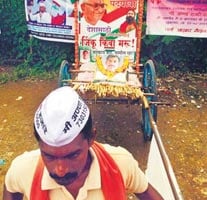 Mumbai:
For the Centre's crisis managers who have been writing off Anna Hazare's anti-graft movement as an uprising of the city-bred middle-class, here's refreshing news: rural India is standing by the corruption crusader and is ready to die for him.
A 32-year-old farmer, who has been fasting for seven days along with Anna, has shown the grit to travel barefoot from Anna's village all the way to Mumbai, with a cart in tow.
Vijay Balaso Jadhav, of Sangli district, started from Ralegan Siddhi on August 17 and reached the city on Sunday evening. He has covered a distance of around 400 km to express solidarity with the 74-year-old Gandhian.
On his way to Mumbai, Jadhav said he met hundreds of people at bus stops and railway stations and educated them on the Lokpal Bill, urging them to join the movement. Interestingly, a close look at the hand-pulled cart reveals a garlanded photo of Jadhav.
Asked why he adorned his own photo, he said, "I have come to fight the war against corruption and the enemy can do everything to kill us and crush our movement. So I have garlanded my own photo to send out a clear message that I am not afraid of death. I have already told my family to learn to live without me."
But isn't a hand-pulled cart cumbersome? "The condition of the common man, particularly farmers, is no better than animals. So I decided to replace bulls and pull the cart myself to show the plight of the masses."
Jadhav has noteworthy credentials when it comes to championing a mass cause.
Last year, he had embarked on a padyatra from Talegaon near Pune to Mumbai, covering a distance of 600 km, to protest rampant farmer suicides in the state.
In November, he travelled on foot again, this time around 1,400 km from Goa to Nagpur, to raise his voice against corruption in the day-to-day life. "The padyatra was flagged off by Baba Ramdev," said a frail Jadhav with a glint of pride in his eyes.
Jadhav said he has been involved in social activities for the past decade, but his encounter with Hazare two years ago changed his outlook. "Anna changed the way I looked at life. Death is the final destination; you may die of old age or get killed in an accident. And I prefer to die fighting against graft rather than being ruled by corrupt politicians," said the farmer, who is also a snake charmer by hobby.