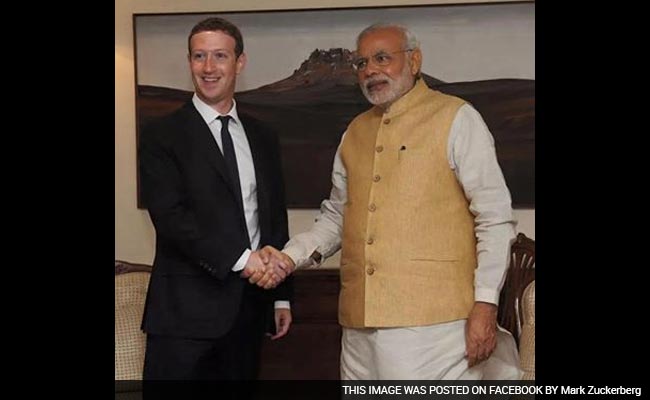 New York:
Facebook CEO Mark Zuckerberg has said that he is looking forward to having a conversation with Prime Minister Narendra Modi about what connectivity means for India's future at a townhall session.
"I'll host Indian Prime Minister Narendra Modi for a Townhall Q&A at Facebook HQ, where I'm looking forward to having a conversation about what connectivity means for India's future," Mr Zuckerberg wrote in a post on Facebook.
Mr Zuckerberg visited the United Nations headquarters yesterday where he participated in several sessions on the sidelines of the ongoing UN Sustainable Development Summit.
He and singer Bono visited an innovation space at the UN that Facebook and the world body partnered on to show the importance of connectivity in giving citizens a voice around the world.
"The space demonstrates the state of connectivity in every country and includes physical exhibits of projects, including our unmanned aircraft to beam down internet from the sky and our laser communication system for delivering high bandwidth internet," he said.
PM Modi began his visit to California with meetings with top CEOs including Apple's Chief Tim Cook, Microsoft CEO Satya Nadella and Google CEO Sundar Pichai.
All eyes are on now set on his interaction with Mr Zuckerberg at Facebook's California's headquarters against the backdrop of the Indian leader's push for Digital India.
In a Facebook post earlier this month announcing the townhall interaction, Mr Zuckerberg had said that he would discuss with PM Modi how communities can work together to address social and economic challenges.