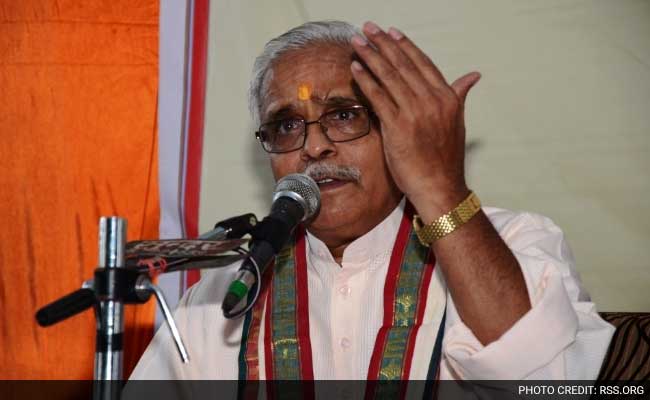 New Delhi:
The RSS today asked people to "expose" a handful of anti-social elements spreading violence and trying to disturb social harmony in the name of cow protection, after Prime Minister Narendra Modi accused them of creating "tension and conflict" in the society.
It asked people not to link such "condemnable efforts" of "a few opportunists" with those truly serving and protecting cows.
Some anti-social elements at a few places are taking law into their hands and perpetrating violence to disturb social harmony. This has raised questions about the pious work of 'gau raksha and gau sewa' (cow protection and service), RSS General Secretary Suresh Bhaiyyaji Joshi said in a statement.
"RSS appeals to all citizens that they should not link these condemnable efforts of a few opportunists with those devoted to the pious work of serving and protecting cows and expose them," he said.
"We also request the state governments to take strict action against such elements and not let the good work of 'gau raksha and gau sewa' get hampered," the statement said.
Noting that India is primarily an agricultural country, Mr Joshi said at a time when the whole world is facing problems because of increasing use of pesticides, the importance of organic farming, in which livestock play a crucial role, has grown further, the statement quoted him as having said.
The appeal from BJP's ideological mentor came after Prime Minister Narendra Modi came down heavily on "fake cow protectors" at a public meeting in Telangana and asked states to take stringent action against them.