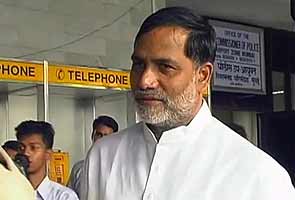 Mumbai:
In what may be seen as partial relief for former chief of the Mumbai Congress Kripashankar Singh, the Supreme Court has stayed the attachment and seizure of his properties in a disproportionate assets case. The Supreme Court, however, refused to stay investigation against Mr Singh and his family members. The top court has said the FIR against them in a disproportionate assets case will remain.
He was raided by the Economic Offences Wing of the Mumbai Police on March 2 and his properties were attached. The Maharashtra government, the very next day, had withdrawn his security.
Mr Singh, who is alleged to have amassed assets worth over Rs. 300 crore, disproportionate to his known sources of income, had resigned from his post soon after the Bombay High Court ordered his prosecution for "criminal misconduct" under the Prevention of Corruption Act.
In its February 22 order, the court had asked Mumbai Police to collect documentary evidence regarding all movable and immovable properties owned by Mr Singh and his family. The court had also ordered that the role of his family members be investigated. The court was hearing a Public Interest Litigation (PIL) filed by activist Sanjay Tiwari, who alleged that the Congress MLA had amassed wealth disproportionate to his known sources of income.
Speaking to NDTV in Mumbai earlier this month, Mr Singh said, "A PIL alone cannot be used as the basis for levelling charges against me. Allegations against me have wrecked my career."
"I am not guilty. I am not absconding. I have done nothing wrong. I will fight as per law," he asserted. "The media targeting me and my family is wrong. I do not own those many properties as are being shown," he said.
12 properties owned by Mr Singh and his family members were attached by the Mumbai Police on March 2. This after over 120 police personnel spread across the city and raided the premises. The attached properties include a duplex flat with terrace in Jupiter building in Vile Parle, Tarang bungalow, two flats, two offices and a plot in suburban Bandra, a shop at Bhandup and a shop and two flats including one he obtained through Chief Minister's quota in suburban Powai and a flat in Kurla. Only one of these properties in the metropolis is in the name of Mr Singh, the rest are owned by his wife, son, daughter and son-in-law.
During the searches, Mr Singh's two BMWs were also seized. The police also found 400 live cartridges at his residence "Tarang", located in upmarket Bandra.
Get Breaking news, live coverage, and Latest News from India and around the world on NDTV.com. Catch all the Live TV action on NDTV 24x7 and NDTV India. Like us on Facebook or follow us on Twitter and Instagram for latest news and live news updates.