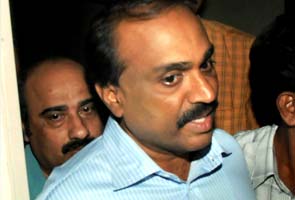 New Delhi:
In more trouble for former Karnataka minister and jailed mining baron Gali Janardhana Reddy, the Enforcement Directorate (ED) is all set to attach his properties, according to sources. Mr Reddy was arrested in September last year in connection with a case of illegal mining and is currently lodged in the Bangalore Central Prison at Parappana Agrahara on the city's outskirts.
NDTV has learnt that the ED is specifically trying to establish links between the money earned through illegal mining - a mind-boggling Rs 884 crore, as claimed by the Central Bureau of Investigation (CBI) - and Mr Reddy's companies including the Obulapuram Mining Company (OMC) in Bellary in Karnataka. Sources say the ED also has a list of 15 companies including OMC, where they feel this money could have been invested illegally. Mr Reddy, his brother B Srinivasa Reddy and his wife Gali Lakshmi Reddy are joint directors in these companies that include the Associated Mining Corporation and Deccan Mining Syndicate among others.
The ED, which has already interrogated Srinivasa Reddy and a few MLAs in connection with the mining scam, will question Janardhana Reddy over the next two days. A CBI court has already extended Mr Reddy's judicial custody till July 2. Sources say that the agency, in all likelihood, will attach his properties with the next 15 days.
Earlier, the CBI had earlier filed two separate chargesheets in the mining scam case which had been registered in 2009. Mr Reddy was arrested along with two other IAS officials including his personal assistant Mehfooz Ali Khan for allegedly caused a loss of Rs. 480 crore to the state exchequer.
Former minister and Congress leader V Muniyappa and some others are the other accused in the case.
The mining magnate, one among the once-powerful trio of the Reddy brothers from Bellary, is accused of illegally exporting iron ore meant for steel plants that eventually never came up. The allotment of ore to the OMC, Anantapur Mining Company and 3-4 more companies in 2007 has also put the role of the then government of YS Rajasekhara Reddy in Andhra Pradesh under the scanner.