New Delhi:
Highlights
Congress alleges poll panel acted under pressure from the BJP-led Centre
PM Narendra Modi will hold another rally in Gujarat on Sunday
BJP has dismissed the Congress' allegation as 'absurd'
Senior Congress leader P Chidambaram criticised the Election Commission in sarcastic tweets on Friday morning, alleging that by delaying an announcement of elections in Gujarat, it has "authorised" Prime Minister Narendra Modi to do so once the ruling BJP has doled out "all concessions and freebies." The BJP has hit back saying the Congress is "scared" and looking for "an excuse for the defeat it will suffer in Gujarat".
"EC will be recalled from its extended holiday after Gujarat government has announced all concessions and freebies," Mr Chidambaram, a former union finance and home minister tweeted this morning, and also, "EC has authorised PM to announce date of Gujarat elections at his last rally (and kindly keep EC informed)."
Mr Chidambaram is the latest in
a string of Congress leaders
who have accused the Election Commission from deviating from standard operating procedure by
announcing election dates last week only in Himachal Pradesh and not in Gujarat
though their assembly terms end only two weeks apart. The commission said that elections will be held in Himachal Pradesh on November 9 and that the Gujarat dates will be announced later. Elections in Gujarat will be held before December 18, when votes will be counted for Himachal Pradesh, it said.
The Congress has alleged that the poll panel acted under pressure from the BJP-led Centre to allow the party to hand out
sops in Gujarat
before poll dates are announced and a model code of conduct comes into force that forbids announcements that can influence people.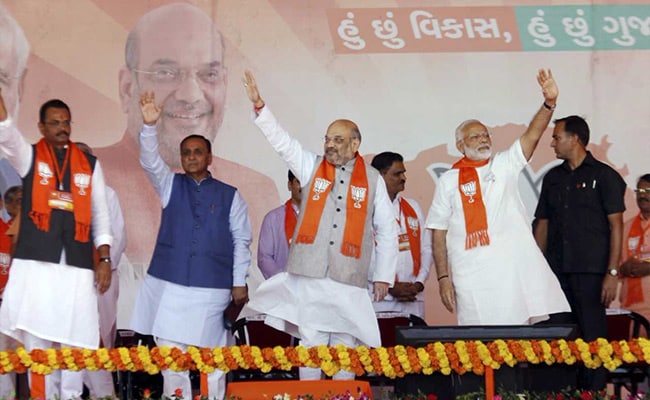 The opposition party linked it to PM Modi's visit to Gujarat earlier this week, when he held a mega rally in state capital Gandhinagar, addressing lakhs of BJP workers. The Prime Minister will hold another rally on October 22 in Gujarat, where the BJP has been in power for the last two decades.
The BJP has dismissed the Congress allegation, with the party's Shahnawaz Hussain saying today, "The Congress is really very frustrated by its failure. They are putting a question mark on the EC as they look for excuses that they will make when they are defeated. That is why P Chidambaram ji is giving such statements on Twitter."
Gujarat Chief Minister Vijay Rupani of the BJP said the Congress "is scared of BJP and that is why P Chidambaram is giving such statements," objecting to the party "commenting on the EC which is not apt in our Indian democracy."
Union minister Ravi Shankar Prasad had earlier slammed the Congress for "questioning the prudence of the Election Commission," and noted, "The Congress is perhaps speaking out of its own experience where interference in the functioning of constitutional bodies used to be a thing in their rule. Such is not the case since 2014."
At his Gandhinagar rally on Monday, PM Modi lashed out at the Congress, saying, "The party that gave so many leaders to the nation now focuses only on spreading lies. They create an atmosphere of pessimism."