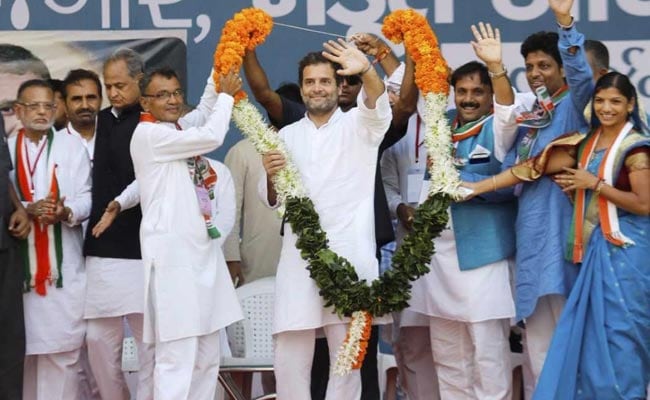 New Delhi:
Rahul Gandhi, who campaigned in Gujarat last week
, warned the state today that it should brace for a shower of empty promises and election rhetoric or "
jumlon ki baarish
" as he phrased it on Twitter.
मौसम का हाल:

चुनाव से पहले गुजरात में आज होगी जुमलों की बारिशhttps://t.co/Fwj9UBf1cZ

Office of RG (@OfficeOfRG) October 16, 2017
Mr Gandhi's self-styled "weather report" was offered amid a controversy over the scheduling of the Gujarat election. The opposition alleges that the dates have not been called to allow the BJP, which has governed the state for two decades, to usher in a range of SOPs blatantly designed to influence voters. The BJP has denied pressuring the Election Commission, which last week announced the voting schedule for Himachal Pradesh but held back on Gujarat. For 20 years, elections have been held simultaneously for both states, except in 2002, when Gujarat was ravaged by communal riots.
Gujarat Chief Minister Vijay Rupani alleged
over the weekend that in 2012, it was the Congress which misused the Election Commission to prevent Narendra Modi, who was then Chief Minister, from being able to govern. Mr Rupani said that by announcing the dates for voting and counting unnecessarily early, the model code of conduct which bans big decisions from being taken or major policies from being introduced was in effect for so long that it impeded Mr Modi's administration.
The PM is in Gujarat today to campaign for his party. So is BJP chief Amit Shah. Mr Modi repeated the charge he made a few weeks ago about "those who are propagating pessimism" while defending his government's record. Mr Shah said at another public meeting that Mr Gandhi, "who has failed to develop his constituency of Amethi at all, is questioning the development of Gujarat", presenting this an incredulous charge.
Mr Gandhi's reference to "
jumla
" is intended at reminding voters that the BJP has not delivered on a campaign promise made ahead of the 2014 general election to deposit 15 lakhs in every Indian's account after recovering black or untaxed money siphoned abroad by the rich. When that did not transpire, Mr Shah said a year later that it was a campaign
jumla
or gimmick.
The election in Himachal Pradesh will be held on November 9 and results announced on December 18. The Gujarat election has not been announced yet, though Chief Election Commissioner AK Joti has said they will be held before December 18.
(With inputs from PTI)