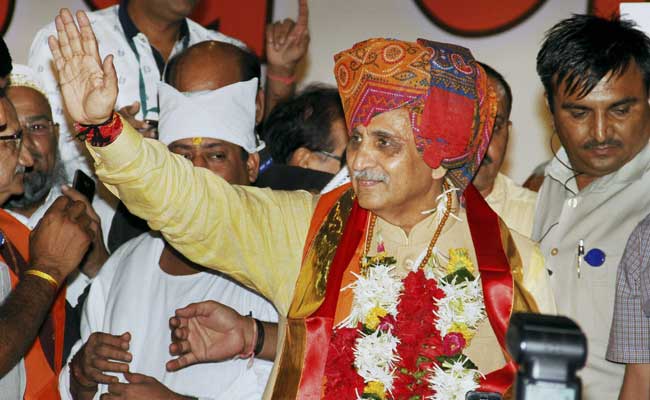 Ahmedabad:
Refuting the opposition's charge that the Election Commission delayed the announcement of dates for the Gujarat assembly polls under pressure from the government, Chief Minister Vijay Rupani accused the Congress of having done the same in 2012 when it was in power at the centre.
"In 2012 (Assembly election), the Election Commission ensured at the behest of the Congress that the model code of conduct was in force for a record time to prevent Modiji from working, because of which the state government could not take up development work," Mr Rupani said at an election programme organised by a newschannel in Ahmedabad.
The Election Commission announced dates on Thursday for elections in Himachal Pradesh and said the Gujarat elections dates would be announced later, though Chief Election Commissioner AK Joti did say that they would be held no later than December 18, when votes will be counted for Himachal Pradesh.
The Congress has accused the ruling BJP of pressuring the Election Commission to delay announcing dates for the Gujarat elections, alleging this was done to allow Prime Minister Narendra Modi to "announce sops" at a mega rally in Gandhinagar today. The model code of conduct would have come into immediate effect in Gujarat had the poll schedule been announced, the Congress said on Friday.
The Congress also alleged that "past practices, conventions and precedents" were being set aside to help the ruling party in the state.
Countering the Congress' allegations, Mr Rupani said the opposition should raise an objection only when there is an interference in the election process. "It is the right of the EC to declare model code of conduct...(the opposition) wants government to stop working. This is against democratic values," Mr Rupani said.
"It is my responsibility to work for the public till the last day. Until the EC declares dates of elections, we will keep working for the public. There is nothing wrong in it. It is our right to work until the dates are declared," the chief minister said.
Asked whether his party has lost the support of the state's strong Patidar community, Chief Minister Rupani said, "the community remains with us".
"There is no place for Patidars in Congress. The community remains with us, they know where their interest lies. We are withdrawing cases against Patidars not to make them happy, but to resolve the deadlock by sitting with them, hearing their problems," he said.
Stressing that his government took strong action against the people involved in thrashing of Dalits in Una, the chief minister exuded confidence that the community will vote for the BJP.
On 'cow vigilantes', Mr Rupani said: "We do not support people who are doing wrong in the name of cow protection. We will punish them. And along with this, we are also working for cow protection, and have made the harshest law of life sentence for cow slaughter."
(with inputs from PTI)