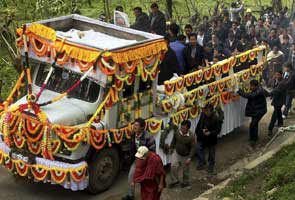 Tawang (Arunachal Pradesh):
Thousands of people bid a tearful adieu to former Arunachal Pradesh Chief Minister Dorjee Khandu whose mortal remains were consigned to flames on Tuesday, 10 days after his death in a chopper crash.
Over 7000 people gathered at the cremation ground at Shebdung near his native village in Tawang district this morning to pay their last respect to their 'Laughing Buddha', as he was fondly called.
The last rites were performed as per Monpa traditions along with state honours.
The body was taken to the cremation ground from his residence after Chief Minister Jarbom Gamlin, his Cabinet colleagues, Speaker Wanglin Lowangdong, AICC leaders Dhaniram Shandil and Sanjoy Bapna, legislators and other senior officials paid their tributes to the departed soul.
Reading out a brief citation on the life and achievements of his predecessor, the chief minister said, "It is the saddest day of our state as we gather here today to pay our respectful adieu to our beloved leader."
"(He) was an ocean of compassion, pure, virtuous, a visionary and a pioneer of modern Arunachal Pradesh. It is very hard to believe that the man of his stature who had been widely loved by the people in the state as well as the entire nation is no more amongst us," Gamlin said with tears in his eyes.
"I have lost a compassionate brother, a mentor, a guiding figure and above all a very good human being. The country has lost an eminent leader, an able administrator who was committed to all round development. The vacuum that has been created by his death will never be filled," he said and promised to follow his footprints.
Abbot of Tawang Monastery Guru Rinpoche also read out the achievements of Khandu in Monpa dialect.
A helicopter carrying Khandu and four others had crashed in bad weather in the mountains on April 30.