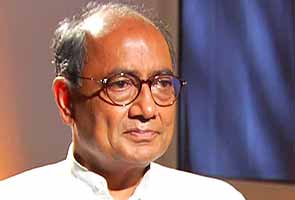 New Delhi:
Congress General Secretary Digvijaya Singh has said that Mamata Banerjee was aware of the reform decisions that the government has taken, over which she withdrew support.
Mr Singh also said all efforts were made to get Mamata Banerjee's Trinamool Congress on board with the government's decision to hike diesel prices, cap subsidised LPG and introduce foreign direct investment in multi-brand retail. "I think all efforts have been made. I hope she will see reason in the steps we have taken," the senior Congress leader told NDTV.
Ms Banerjee today accused the Congress of "concocting stories" and stood her ground on the issue of FDI in retail, stating that till it is withdrawn, she cannot return to the coalition to who she has often dictated terms. "It was discussed at the UPA coordination committee meeting," said Digvijaya Singh, referring to a group set up after the Congress was accused by allies of keeping them in the dark about important decisions. "I don't know why she is saying she was not told about it," he added.
Government sources have told NDTV that when this issue was brought up in the meeting, Ms Banerjee demanded a separate discusson with the PM and refused to discuss it there. When the PM called her later, the sources say, she didn't call back.
Mr Singh suggested that if Ms Banerjee is opposed to the hike in diesel prices, then she should cut taxes. "State governments collect Rs 1,13,000 crore on taxes, shouldn't they share the burden with the Centre?," he asked. He also pointed to Congress-ruled states which have raised the cap for subsidised LPG cylinders from six to nine, saying that Ms Banerjee could also follow that in West Bengal.
The Prime Minister and Congress president Sonia Gandhi met with senior Congress leaders this morning to gauge the government's future without Ms Banerjee. Dr Manmohan Singh has made it clear that he will not compromise - as he did last year - on allowing 51% Foreign Direct Investment or FDI in multi-brand retail. Sources say Mrs Gandhi has backed him in his new initiative, and that the government has ruled out other concessions to propitiate Ms Banerjee.
Digvijaya Singh said the government was not in minority as the "numbers of the political parties which have given their letters of support was 324. If 19 of the Trinamool Congress go away, we have still have a majority in Parliament. So there is no cause for worry."
"I am sure we will carry on till 2014," he added
The government's strength is derived largely from UP powerhouses Mulayam Singh Yadav and Mayawati. Both do not participate in the UPA but provide outside support. The Samajwadi Party has 21 MPs and the Bahujan Samaj Party 18.
When asked about allying with Bihar chief minister Nitish Kumar after his offer today to support whoever gave his state special status, Mr Singh said that Mr Kumar had proved his "secular credentials several times". The only blot in his record is that he was railway minister during the Godhra riots, Mr Singh said. Mr Kumar runs the Bihar government in alliance with the BJP but has openly differed with his partner, specially over Narendra Modi as a possible BJP prime ministerial candidate. Nitish Kumar's Janata Dal (United) has 22 of the 40 MPs Bihar sends to Lok Sabha.