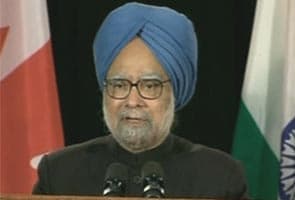 Toronto:
Prime Minister Manmohan Singh on Monday made it clear to Canada and the Sikh community that the Canadian soil should not be allowed to be used for promoting extremism against India and hoped the government in Canada was "alive to what is happening".
"The Sikh community in Canada is prosperous and well integrated with the Canadian life. Most of them are peace loving and good citizens of Canada," Manmohan said at a joint media interaction in the company of host Prime Minister Stephen Harper during their bilateral talks.
"But a small group of people have taken to the path of extremism which does great disservice to the Sikh community, India and good relationship with Canada," he added.
The Prime Minister's comments on the Sikh community and extremism assume significance in the context of demands by a section of the Sikh community in Canada, that the Indian government removes them from a "blacklist" that denies them entry to country.
It also comes close on the heels of the 25th anniversary of the bombing of Air India plane 'Kanishka' in 1985 which claimed 329 lives in which some Khalistani extremists living in Canada were believed to be involved.
Singh, a Sikh himself, said he was of the "fervent hope" that the community would not allow its religious institutions and other places to encourage extremism. "Extremism of the religious variety is something not in tune with the growing realities of the integrated world community and globalised community," he said.
He also said that people of diverse background and opinion must "learn to live together as clear partners in prosperity."
"I have discussed with Prime Minister Harper that the Canadian soil is not used to promote extremism.
The Prime Minister told me there are laws which set out limitations that exist. But, I am confident that the government of Prime Minister Harper is fully alive to what is happening,"
Manmohan Singh concluded.