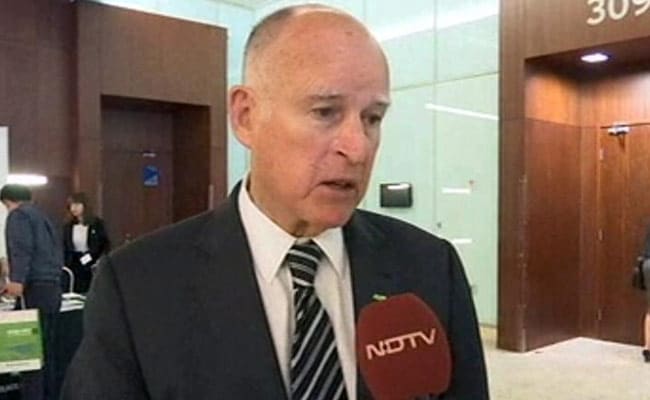 Beijing:
California's Democrat Governor Jerry Brown has said President Donald Trump's pulling US out of the Paris Climate Accord has had an unexpected result. Instead of the support for the move that he expected, people in the US and abroad have woken up to the pressing need to stop climate change. Notwithstanding President Trump's announcement, more than 100 US cities have said they will continue towards meeting the emission targets set by the Paris Accord.
Governor Brown, who is part of the 8th Clean Energy Ministerial -- a global forum to share best practices for transition to clean energy -- that's being held in Beijing, said California hopes to work with India and China to fight global warming.
In an exclusive interview to NDTV, Governor Brown said, "President Trump's pulling out of the Paris Agreement has had the effect opposite to what Trump had hoped for".
President Trump, he said, wants the climate agreement to fail. Instead his announcement has "galvanised the grass-root across America". "Trump's negative response has created a powerful response. With Trump starting withdrawal, states have started redoubling (their) efforts to contain (emissions)," he added. "We are not moving fast enough on greenhouse gases. A sub national effort is needed on climate change," he said.
Last week, in keeping with his pre-election promise of pulling US out of the Paris Climate Accord, President Trump made the announcement, alleging that it gave a better deal to "some of the world's highly polluting countries" like India and China.
Though the US was $20 trillion in debt, "under the Paris Accord, billions of dollars that should be invested here, will go to countries that have taken our jobs," he said. "At what point do they start laughing at us as a country? We want fair treatment," President Trump had added.
California has been billed as the trendsetter in the US when it comes to pollution control measures. Its law commits the state to cut down on greenhouse gas emissions by 80 per cent by 2050.
The far-reaching initiatives by the state - taken long before the nation took up the challenge posed by climate change - included an increase in zero emission vehicles, switching to renewable energy and promoting the best practices in the industry.
Californian law caps the amount of greenhouse gases any economic sector may emit at 90 per cent of the previous year. If a company feels it cannot meet the requirement, it has to pay by "bidding" for emission allowances. If it manages to meet the emission criteria, it passes on the allowances to another company that needs it.
By 2020, the state has promised to produce 33 per cent of the energy it uses from renewable sources like sunlight and wind.