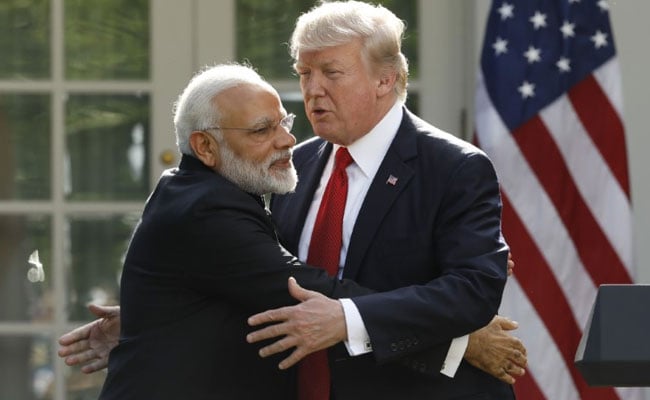 Highlights
Sushma Swaraj met Mr Trump at an event at the United Nations
US Ambassador to UN Nikki Haley introduced Ms Swaraj to Donald Trump
PM Modi and Mr Trump last met at ASEAN summit in Philippines
United Nations:
Foreign Minister Sushma Swaraj met US President Donald Trump on Monday during a high-level event on countering drug trafficking hosted by the American leader at the United Nations.
As Mr Trump left the stage at the conclusion of the event, US Ambassador to the UN Nikki Haley warmly hugged Ms Swaraj and introduced her to the president.
When Ms Swaraj told the US president that she has brought greetings from Prime Minister Narendra Modi, Mr Trump responded, "I love India, give my regards to my friend PM Modi," Indian diplomatic sources told news agency PTI.
Ms Swaraj attended the Global Call to Action on the World Drug Problem chaired by Mr Trump as the high-level week of the 73rd Session of the UN General Assembly began in New York.
Mr Trump hosted PM Modi at the White House during his visit to the US in June last year. The White House said it was the "first dinner for a foreign dignitary at the White House under this (President Trump's) administration" and that it was "seeking to roll out the red carpet".
PM Modi had reciprocated warmly. "When he (President Trump) came to India in 2014... he was full of very warm remarks and observations about me, I still remember them," he told reporters at the White House.
Mr Trump has described PM Modi as a "true friend" and the two leaders have developed a warm rapport in the past year, also communicating on phone and on Twitter.
PM Modi and Mr Trump last met at the ASEAN summit in Philippines in November.
(With inputs from PTI)