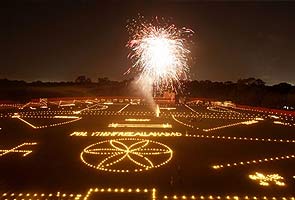 New Delhi:
Earthen 'diyas' dotted houses and fireworks illuminated the evening sky as people celebrated Diwali by decorating their homes with colourful rangolis and twinkling electric bulbs, and by exchanging sweets.
As excitement gripped the country, tragedy struck a family in Uttar Pradesh's Auraiya district when six of its members and two others died in an explosion in a house where fire crackers were manufactured illegally.
Indian and Pakistani guards at border posts exchanged sweets and gifts in the morning.
It was fun and frolic for children and youngsters as they burst crackers and lit fireworks while families visited their neighbours.
According to Hindu belief, Diwali is celebrated to mark the return of Lord Rama to Ayodhya from his exile after vanquishing the demon-king Ravana.
In the national capital, people decorated their homes and shops with colourful 'rangolis', flowers and lightings and lit 'diyas' or earthen lamps.
In nearby Amritsar, thousands of people paid obeisance in the Golden Temple, which was illuminated by fancy lights.
People also celebrated Diwali in other parts of the country with traditional fervour and gaiety. The devout thronged temples and offered prayers.
In Tamil Nadu, newlyweds were seen enjoying the moments with their friends and relatives wishing them 'Thalai Deepavali' (the first Diwali with their spouses). Cinema halls in Chennai too were filled with two notable Kollywood films being released - "Thuppakki" and "Poda Podi".
Bollywood turned to Twitter to greet the people and also to ask fans to go slow on sweets and and crackers. For movie buffs, there were new releases like Shah Rukh Khan's "Jab Tak Hai Jaan" and Ajay Devgn's "Son of Sardar".
President Pranab Mukherjee, Vice President Hamid Ansari and Prime Minister Manmohan Singh greeted the people on the occasion of Diwali saying the festival of lights strengthens the country's resolve to follow true ethical values.