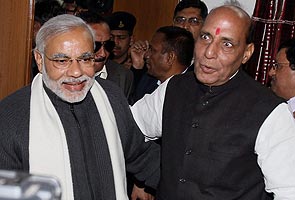 New Delhi:
Four days after being elected the new president of the Bharatiya Janata Party (BJP), Rajnath Singh was visited by Gujarat Chief Minister Narendra Modi at his residence in New Delhi today. After the two-hour long meeting, Mr Singh told NDTV that he will consult the party's central leaders for a possible bigger role for Mr Modi in the run-up to the 2014 general elections.
"He had congratulated me on the phone the day I was elected as the BJP president. Today, he came to meet me. We spoke about Gujarat; we also spoke about 2014 Lok Sabha elections," Mr Singh said.
"We discussed at length about how the BJP can serve Gujarat under his leadership and how we can improve as a party. Yes, we also discussed 2014 at length as well," Mr Modi told the media after the meeting.
Earlier this week, Mr Singh emerged as a consensus candidate for the post of BJP president, hours after the income tax department raided offices of companies which had done business with the Purti group, set up by Nitin Gadkari, who was the party president and looked set to get an unprecedented second term.
According to sources, the new BJP president plans to make some changes to his core team soon.
Political pundits believe how Mr Singh will keep the multiple factions together and balance the interests of the BJP and its mentor the Rashtriya Swayamsewak Sangh or RSS may decide the fate of the party in 2014.