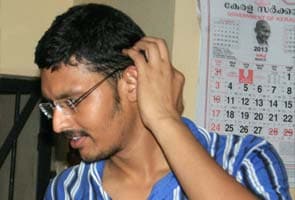 Kannur:
Was it a love affair with a fellow woman bank officer that ultimately led to the arrest of rapist Bitty Mohanty in Kerala, seven years after he jumped parole?
Mr Mohanty was arrested last week in Kannur, where he was working with a state-run bank. An anonymous letter to the bank's senior officers alleged that the man everyone knew as Raghav Rajan was actually Bitti Mohanty who was sentenced by a Rajasthan court to seven years in prison for raping a German tourist.
Though Mr Mohanty denied this, the Rajasthan police officer, who had arrested him in 2006, identified him and he has been taken to Rajasthan now to cross-check his fingerprints against the ones on record for the convict in the German rape case.
The police has not confirmed or denied whether the tip-off that led to the arrest came from a co-worker who had been jilted by Mr Mohanty. They say the source of the anonymous letter is not their focus.
The woman, who works in another branch of the same bank, according to some reports, had told her parents that she wanted to marry him. They allegedly saw his photo in a TV channel report on rape cases and recognised him as their daughter's boyfriend.