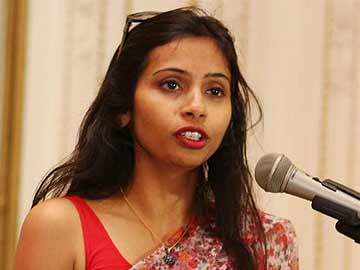 Washington/New York:
The US today said employment of domestic workers will now be on agenda for the bilateral talks with India with which it is in conversation to "determine the way forward" in resolving the 14-day-long diplomatic row over the arrest of Devyani Khobragade.
"The Department of State is in conversation with the Government of India on determining the way forward on the immediate case," a State Department official told PTI, as it continued to review the application of transfer of Ms Khobragade from the Indian Consulate in New York to India's Permanent Mission in United Nations.
"However, we recognise the need to address the larger issues. The employment of domestic workers will be on the agenda for bilateral discussion in the weeks and months ahead," the official said.
Officials from both countries continued to hold talks to resolve the issue over the diplomat's arrest, which has strained bilateral ties.
The State Department official's remarks came a day after India, in a tough reciprocal action, downgraded the immunity of a certain category of US diplomats and withdrew the immunity enjoyed by their family members.
US consular officials in four consulates in India are being issued new ID cards, specifying the limited immunity which will not protect them from serious offences. This is in line with the restricted immunity given to India's Consular officials in the US.
Ms Khobragade, 39, was arrested on December 12 on charges of making false declarations in a visa application for her domestic help, Sangeeta Richard. She was released on a $250,000 bond.
Subsequent revelations that she was strip-searched and lodged in prison with drug addicts and criminals triggered a row between the two sides.
Her lawyer Daniel Arshack said Diplomatic Security Services agent Mark Smith, who handled the investigation and arrest of Ms Khobragade on visa fraud charges, made a "serious" goof-up in the case as he erred in determining the salary of her domestic help from the paperwork submitted by the Indian diplomat to US authorities.
(Read)
Mr Arshack said Mr Smith "erroneously and disastrously" concluded that the amount of $4,500 listed as monthly salary in the DS-160 visa application form submitted by Ms Khobragade was the payment to be made to Ms Richard.
Mr Arshack stated that $4,500 was the monthly base salary of Ms Khobragade and not that of Ms Richard.