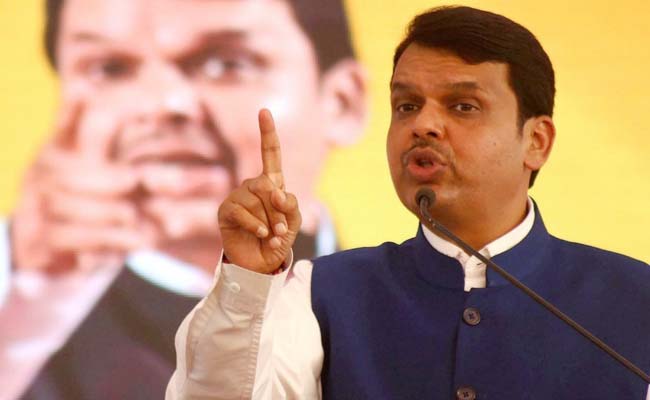 Mumbai:
Spelling huge embarrassment for the ruling Bharatiya Janata Party-Shiv Sena combine, Maharashtra Chief Minister Devendra Fadnavis tendered an unconditional apology in the legislature after a Gujarati translation audio of Governor CV Rao's speech was played in the House, here on Monday.
As the matter came to light, Mr Fadnavis got up and tendered an unconditional apology to the House and the members for the gaffe which he termed as "a very serious issue."
The incident, ironically, occurred a day before the Marathi Language Day (February 27) and on the opening day of the Maharashtra Legislature's Budget Session on Monday when Governor Rao got up to make his customary address before a joint sitting of the members of the assembly and council.
Barely a few minutes into the speech in English which was delivered by Mr Rao, most members were startled to hear a Gujarati translation on their headphones instead of Marathi.
Irate Opposition Congress and Nationalist Congress Party members created a ruckus, flaying the government for the Gujarati audio and vociferously demanded a Marathi translation audio.
"This is a very serious issue.. it cannot be taken lightly," said Congress Leader of Opposition in the assembly Radhakrishna Vikhe-Patil.
His counterpart in the Council, NCP's Dhananjay Munde said "the government has failed the 12 crore citizens of Maharashtra.. We did not hear the speech in Marathi, but in Gujarati language."
Led by the two leaders, the main opposition members boycotted the Governor's remaining speech and staged a noisy walkout.
Education Minister Vinod Tawde said when he heard the Gujarati translation audio, he rushed to the Legislature Control Room to personally check and later read out the Marathi translation of the Governor's speech, but it was not clear if it was a technical glitch or something else.
On his part, Mr Fadnavis got up and tendered an apology to the House, and requested the Speaker Haribhau Bagade to initiate stringent action against the people responsible and punish them by Monday evening if possible.
"It is indeed a very grave mistake. This is indeed a serious matter. I am requesting the Honourable Speaker to look into this immediately and take stringent action against those responsible. In fact, if possible by this evening, they should be shunted home. I also hereby unconditionally apologise for this," Mr Fadnavis said.
This is described as an 'unprecedented' incident in the state's history and happened on the eve of the Marathi Language Day -- to commemorate the birth anniversary of litterateur and Padma Bhushan awardee, VV Shirwadkar when the government organises a series of programmes in the state to popularise the state's official language.