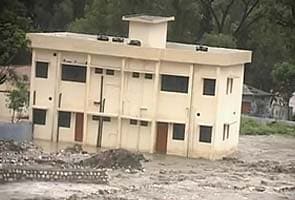 Dehradun:
Construction along river banks will be banned in Uttarakhand amid concerns that unchecked development fuelled last month's flash floods and landslides that killed thousands, the chief minister, Vijay Bahuguna, said today.
He also announced that a regulatory body would be set up to scrutinise future construction as the Himalayan state begins the herculean task of rebuilding following the June 15 floods.
"Permission will not be given for any kind of construction along the river banks," Mr Bahuguna told reporters in the state capital Dehradun.
"All guidelines will be strictly followed," he added.
Raging rivers and landslides from torrential rains swept away houses, other buildings and even entire villages in the state known as the "Land of the Gods" for its revered shrines and pilgrimage sites.
Some 1,000 people died in the disaster and more than 3,000 are still missing, Mr Bahuguna said on Sunday, while conceding that the exact death toll may never be known.
A state lawmaker has said the number killed could cross 10,000, as more bodies were recovered from under tonnes of debris and from rivers downstream, but this figure was rejected as "guesswork" by the chief minister.
Thousands of soldiers, backed by military helicopters, have wound down rescue efforts after evacuating more than 100,000 people stranded when roads and bridges were destroyed.
Environmentalists and aid agencies have said rapid and unregulated development and deforestation was partly to blame for the floods in the state, which attracts thousands of pilgrims and other tourists every year.
Mr Bahuguna announced that the Uttarakhand Reconstruction and Rehabilitation Authority would be established to spell out guidelines for all development activities in the state, keeping in mind the welfare of its residents for "the next 100 years".
International charity ActionAid said construction of hydroelectric dams and mining projects over the last decade in the state's many valleys threatened its fragile ecosystem.
"This aggressive and unregulated construction work has been playing ecological havoc for years," said Debabrat Patra, ActionAid's regional manager for Uttarakhand.
"With little forest left to hold the earth, another burst of heavy rain could be disastrous for the people living there," he said in a statement.