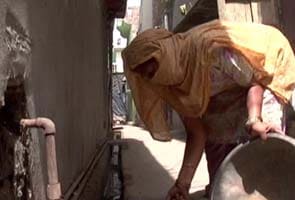 New Delhi:
It was a promise for social justice to lakhs of poor families, a promise to end the shameful practice of manual scavenging- something that has been described by Prime Minister Manmohan Singh as one of the darkest blots on the country's development process.
Exactly a year ago, on Independence Day, Prime Minister Manmohan Singh said, "The Government is planning an effective law to end manual scavenging."
He promised to bring an updated, stronger and stricter law to end manual scavenging- the degrading practice of scooping human excreta from dry toilets with brooms and metal scrapers.
A month later, in September 2012, the then minister for social justice and empowerment, Mukul Wasnik, introduced the Prohibition of Employment as Manual Scavengers and their Rehabilitation Bill, 2012.
The new law was to replace a 20-year-old law banning manual scavenging that had proved to be weak and ineffective.
According to Census 2011, there are nearly 8 lakh households which depend on manual scavenging.
All manual scavengers belong to the Valmiki caste. They occupy the lowest position in the caste system and among the dalits are the most disadvantaged. Nearly 95 per cent of the workforce are women and belong to landless families.
Among the Muslims, there is a scavenging community called Hailas who are traditionally assigned the task of gathering human excreta manually from dry latrines. Like the Hindu Valmikis or Bhangis, they live in ghettos that are on the fringes of a village.
Despite the bill's urgency and importance, it continues to hang fire.
Now groups of former manual scavengers are literally knocking on the doors of Parliamentarians in Delhi, demanding early passage of the bill.
Lad Kunwar Valmiki, a former manual scavenger from Chattarpur, Madhya Pradesh, said, "The practice should be stopped. We want to live our lives with self-respect. Our children should get educated in good schools and eventually progress in their lives."
The new bill prohibits the employment of a person for manually cleaning or disposing of human excreta in an insanitary latrine, open drain or on a railway track.
It prohibits any person, local authority or agency from constructing an unsanitary latrine. It prohibits any local authority or agency from employing a person for hazardous cleaning of a sewer or a septic tank.
There are stronger accountability mechanisms and penalties for violation, including jail and fines or both.
The bill also aims to provide rehabilitation of manual scavengers and their families
Activist Ashif Shaikh, who is the convener of the Rashtriya Garima Abhiyan, said, "This new bill in Parliament is important because it would be applicable in the entire country at once. Secondly, the definition of manual scavenging in the earlier law was very narrow. Only manual cleaning of dry toilets was present. The new law has a broader definition which includes manual cleaning, handling and disposal of human excreta in any way."
According to the Prime Minister, manual scavenging is a blot on the country's development process. However, it continues over six decades after the country achieved independence.