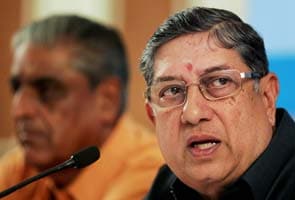 New Delhi:
After the arrest of his son-in-law for allegedly betting in the recently-concluded edition of the Indian Premier League (IPL), pressure is mounting on BCCI chief N Srinivasan to step down. Mr Srinivasan, who has denied having any knowledge of his son-in-law's alleged betting activities, says he cannot be "railroaded, pushed and threatened to quit".
Following are the reactions:Jyotiraditya Scindia, BCCI Finance Committee Chairman
"Let me say this that I am not assuming or saying that anyone is guilty. But considering the environment that is around cricket today, considering the fact that we do need to cleanse the sport in every single meaning of the word, I do believe that it would be in the fitness of things if Mr Srinivasan did step aside until this matter reached a conclusive end in terms of an inquiry."
Farooq Abdullah, National Conference Chief
"Sreenivasan is an 'honourable man' and was under no pressure to quit because his son-in-law was being investigated for betting in Indian Premier League matches."
Ehsan Mani, Former ICC president

"There is a lot of 'conflict of interest' involved and he should have "stepped aside" under the current circumstances... In a tournament like this where so much money is involved, so much betting is going on, this is inevitable. What is surprising is BCCI's own reaction to this. Under the circumstance the president should have stepped aside, even if temporarily.