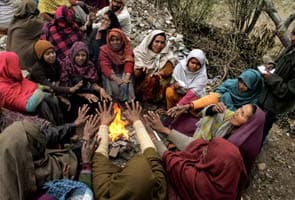 Fog and icy winds gave no respite from the winter chill to residents of the national capital on Tuesday. The minimum temperature was four notches below average at 3.3 degrees Celsius.
The weather office has, however, forecast a clear and sunny day. "A clear and sunny day lies ahead for Delhi with a cold evening," a Met official said.
Fog enveloped the city early morning with visibility dropping to around 500 metres.
The maximum temperature is likely to reach around 14 degrees Celsius during the day. Monday's minimum temperature was 2.4 degrees Celsius, five notches below average while the maximum settled at 13.4 degrees Celsius.
Large parts of north India continue to reel under a severe cold wave. The unusually harsh winter that north India is witnessing this season is reportedly due to an extreme weather phenomenon - caused by a high pressure system over Siberia that is pushing cold winds towards India.
So, even if temperatures rise, the next few days will continue to be intensely cold as the wind speed is expected to be very high. The days might see some sunshine, but icy winds will add to the chill factor at night. (Help keep someone warm, donate a blanket)
(
With IANS inputs
)