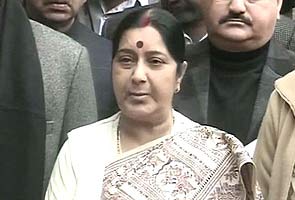 New Delhi:
The BJP will ask President Pranab Mukherjee to call a special session of Parliament to discuss the vast public anger and protests in Delhi after a medical student was gang-raped on a bus in the capital last weekend.
Over the weekend, the police clashed repeatedly with thousands of demonstrators, many of them students, who defied a ban to gather at India Gate. Many asked that laws be amended to provide the death penalty for rapists; all asked for better policing on Delhi's streets at night to protect women.
The BJP had suggested that the government convene a Parliament session to discuss urgently amending criminal laws to introduce the death penalty for extreme cases of sexual assault.
The party also asked the Prime Minister to call a meeting of different political parties to look at how to restore and maintain calm in the capital.
"We regret to say both our suggestions have been rejected," said the BJP's Sushma Swaraj.
"This government does not want to provide answers in Parliament," she said.
The Prime Minister who had not addressed either the heinous gang-rape or the fury that has reverberated across the country ever since, said in a TV address today that he understands the anger of people. He appealed for calm and said the government "will examine without delay not only the responses to this terrible crime but also all aspects concerning the safety of women and children and punishment to those who commit these monstrous crimes." The BJP rejected Dr Manmohan Singh's statement as inadequate.
"The PM's message was disappointing. First, he did not speak a word. The whole nation is agitated for the last one week. Now he has said it, but he did not give any promise or a reassurance to the country that the government is taking sudden steps," said party spokesperson Prakash Javadekar.