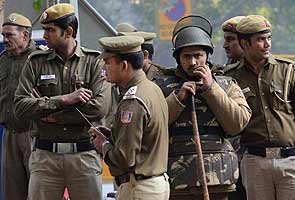 New Delhi:
The Delhi Police today refuted allegations levelled by the male friend of the 23-year-old medical student who was gang-raped and brutally beaten up on a moving bus in South Delhi on December 16. The friend had alleged that the policemen argued over jurisdictional area, losing precious time that might have proven crucial in saving her.
In a short explanation, the Delhi Police said that the Police Control Room van got a call at 10:22 pm on the night of the incident about two people, including a woman, lying on the road in a pool of blood.
Police claimed that two rescue vans reached the spot within minutes and took the victims to hospital 33 minutes after receiving the first distress call.
"The PCR call was received at 10:22:20. Call broadcast to PCR vans and Van Z-54 was directed to spot," a statement from the Delhi Police said.
"Meanwhile, PCR van E-42 reached the spot on its own at 10:26 - in four minutes. Van Z-54 reached spot at 10:28 i.e. within 5.5 minutes of the call. It left the spot with victims at 10:31 i.e. within three minutes. It reached Safdarjung Hospital within 24 minutes at 10:55. All records as per GPS (Global Positioning System)," said the statement.
Breaking his silence for the first time since the horrific gang-rape, Amanat's (NOT her real name) friend yesterday said he wished he could have saved the 23-year-old woman. He also blamed the police for delaying taking them to hospital for over two hours as three PCR vans fought over jurisdiction.