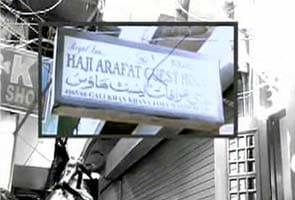 New Delhi:
Less than 24 hours after the Delhi Police seized an AK-56 assault rifle, two magazines with 30 cartridges each, and a hand grenade from a room of a guest house near the famous Jama Masjid mosque, the man who this ammunition was allegedly intended for has become the centre of row between two state police units. While the Delhi Police's special cell claims Liyakat Shah, the arrested man, is a wanted terrorist, sources in the Kashmir police say it is a case of mistaken identity and that Shah was travelling with his family. The Jammu and Kashmir government have now decided to take up the matter with the central government.
The Delhi Police claims Shah is a terrorist from the Hizbul Mujahideen group who moved from Kashmir to Pakistan in 1997 and was trained there. They say they had arrested Shah while on his way from Gorakhpur in Uttar Pradesh to Delhi on March 20.
The Delhi Police says he was asked by a senior commander of the Hizbul to execute a terror attack in Delhi. They say the Hizbul allegedly organised a Pakistani passport for Shah who entered India via Nepal.
The Delhi Police claims that on March 19, it received an intelligence alert that a terror attack was being planned in Delhi, and it managed to track down Shah in Uttar Pradesh as he headed to the capital on a bus. He told them about the ammunition that was waiting for him in a Delhi guest house. The Delhi Police is now studying security camera footage from the guest house.
"A senior commander of the Hizbul had asked Liyakat to conduct a terrorist strike in Delhi... assured that logistics had been taken care of," said SN Srivastav, Commissioner, Special Cell, Delhi Police.
However, in Kashmir, police sources say Shah was simply following hundreds of young Kashmiri men who have returned via the Nepal route after the government announced a rehabilitation and surrender policy for those who are ready to abjure violence. Around 300 young men have already returned via Nepal in the last one year. Shah's family says they had even applied before the state government for his return.
NDTV has learnt that Liyakat Shah and his family, including his 18-year-old daughter flew from Karachi to Kathmandu and reached Sanauli post on the Indo-Nepal border on March 20. There, they informed the border police. However, instead of allowing them to proceed to Jammu and Kashmir as planned and promised, the Delhi Police arrested them.
The Delhi Police said that a man who had posed as a tourist and checked into the room where the ammunition was found, had given his driving license as address proof at the guest house, whereas the staff there said the suspect had given a voter identity card. That man left the room just four hours later - leaving his bag behind - and did not return, though he had paid for a full day's stay.