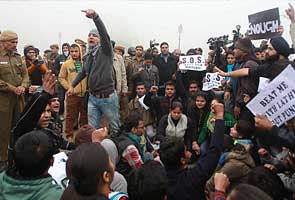 New Delhi:
Former Army chief VK Singh and yoga icon Baba Ramdev have been booked by the Delhi Police for inciting mob and provoking crowd at Jantar Mantar in New Delhi yesterday. Three cases of rioting have also been registered by the police.
Protesters led by Baba Ramdev and General Singh had clashed with the police at Jantar Mantar yesterday afternoon when they were prevented from marching towards India Gate, the epicentre of protests against the gang-rape in a moving bus of 23-year-old Amanat (NOT her real name) in New Delhi on December 16.
After a brief speech at Jantar Mantar, Baba Ramdev along with General Singh and others had started marching towards India Gate but they were stopped by the police.
As soon as Baba Ramdev and General Singh got down from the dais, police had cordoned off the area and the protesters sat at the spot.
However, supporters started marching towards India Gate and tried to break the barricades following which police resorted to use of force. Two persons suffered injuries in the incident.
"Government should set up fast track courts and punish all the rapists. We want death penalty for all the accused," Baba Ramdev had said.
(
With inputs from PTI
)