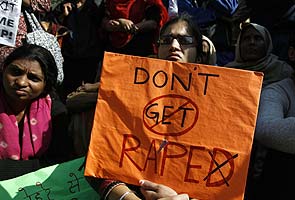 New Delhi:
As a young woman who was gang-raped on a bus fights for her life in a Delhi hospital, protests across the country are demanding tougher laws for rapes. Parliamentarians want the government to explain what will be done to make women safer in the capital, and the Delhi High Court today was stark in its criticism of the police for failing women.
At noon, Home Minister Sushil Kumar Shinde explained to Parliament new plans to improve security for women in Delhi. Police patrolling will increase at night, he said. Private buses when they are not in use must be parked with their owners, he said. The photo IDs of the driver and staff of every bus will have to be displayed, and the police will enforce this, he said.
The bus which was used in Sunday night's gang-rape was run by a private operator, had tinted windows, which is illegal, and was contracted to a school.Mr Shinde told parliamentarians that the police will immediately start impounding vehicles with tinted glasses. (
Watch
)
Mr Shinde said a woman officer will head a police team which has been asked to regularly take stock of the medical condition of the victim in hospital and remain in touch with her parents.
The minister said that a proposal to amend the law to increase the punishment for sexual offences has been introduced in the Lok Sabha.
The Home Minister met with senior police officers this morning; they decided that 1300 stretches with poor lighting will receive urgent attention.
Last night, Mr Shinde received a firm letter from his party president, Sonia Gandhi in which she described Sunday's gang-rape as a "shame for all of us who are responsible for security of our cities." She asked him to "sensitize police to the danger our daughters, sisters, mothers face every day." (
Read: Sonia Gandhi's firm letter to Home Minister
)
Four people have been arrested for the gang-rape; two are missing. Mr Shinde told an outraged parliament yesterday that the government will ask for daily hearings in this case to ensure a verdict is delivered quickly.
The Delhi High Court today had scathing feedback for the police. "How did the bus cross five police check points without anybody stopping it?" judges asked. stopped it? "Those responsible have to be punished," they warned. (
Read: 10 latest developments in the Delhi gang rape case
)