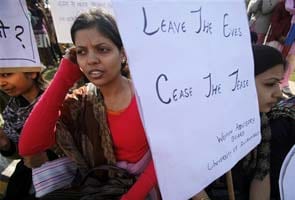 New Delhi:
The school principal of the juvenile arrested in the gang-rape and murder case of a 23-year-old medical student today said he submitted before a Juvenile Justice Board that as per the school records the accused is 17 years and six months old. The juvenile is one of the six arrested men accused of raping and brutally assaulting the medical student, who died less than two weeks after the incident.
The former principal of the school in Badaun in Uttar Pradesh, where the juvenile had reportedly studied till Class III, appeared before the Board, presided over by Principal Magistrate Geetanjali Goel.
"We take this as the official record and later on follow the same throughout the academic session, so it could not be doubted," the principal told the media. However, the police says the school never asks the parents to give the child's birth certificate as age proof during the time of admission.
As per the school records, the juvenile accused was 17 years 6 months and 11 days old on the night of the incident. According to the police, the juvenile was one of the most savage attackers, but because of his age, he could be let off with a minimum punishment of three years of imprisonment, even after conviction.
However, if the Juvenile justice board is not satisfied with the school principal's statement and there is doubt about his date of birth, police will be able to conduct an ossification or a bone marrow test to determine his age. If the accused turns out to be an adult, then the police will file a supplementary chargesheet. But if the Juvenile Justice Board concludes that he is a minor then they will file an inquiry report, detailing his exact role in the brutal incident.
Taking note of the submissions made by the school principal, the court has now fixed January 28 as the next date of hearing in the case. The legal aid counsel for the juvenile, advocate Rajesh Tiwari, however, told the media outside the court that on the next date of hearing in the case the Board will hear arguments to decide the age of the juvenile and will thereafter give its verdict whether he is a major or minor.
The horrific incident took place on the night of December 16, 2012 when the 23-year-old medical student and her male friend boarded a private bus from Munirka in south Delhi after watching a movie in a mall. The six men on board brutally assaulted the couple and gang-raped the girl for forty minutes before throwing them out of the bus in a semi-naked state. After bravely fighting against the odds for 13 days, the girl succumbed to her injuries in a hospital in Singapore on December 29.
(With inputs from PTI)