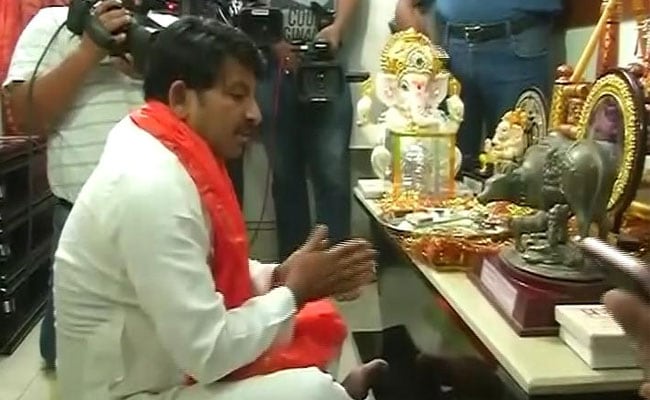 Highlights
As BJP races ahead in MCD polls, Delhi BJP chief takes a dig at AAP
"When you have a chance, why are you hurting the poor?" said Manoj Tiwari
AAP fighting to stay politically relevant after losses in Punjab and Goa
New Delhi:
As
counting for the Delhi civic polls on Wednesday gave an decisive edge to the BJP,
its Delhi chief Manoj Tiwari took a dig at Arvind Kejriwal's Aam Aadmi Party (AAP) saying it had "already conceded defeat". "Those who lose the battle even before the results clearly have a negative attitude. People can't support that," Mr Tiwari said.
"When you have the chance, why are you hurting the poor man? Why are you losing before the results?"
Exit polls have predicted that the BJP will retain the Municipal Corporation of Delhi
or MCD and add to its list of recent election victories in state and local polls across the country.
For AAP, which rules Delhi, the civic election is a fight to stay politically relevant after its recent defeats in Punjab and Goa. Mr Kejriwal has rejected talk that the setbacks for his party are a "trailer for the MCD polls". His party has repeatedly said that if it loses, it will mainly be because of tampered Electronic Voting Machines or EVMs.
Votes are being counted for three municipal corporations.
The BJP has dominated the MCD for the last decade. In 2012, the party had won a majority in MCD North and MCD East and in MCD South, the BJP was the largest party.
Mr Tiwari said, "Our hopes are very positive, undoubtedly we will get positive results. We hope to get 270 seats...We have the people's love."