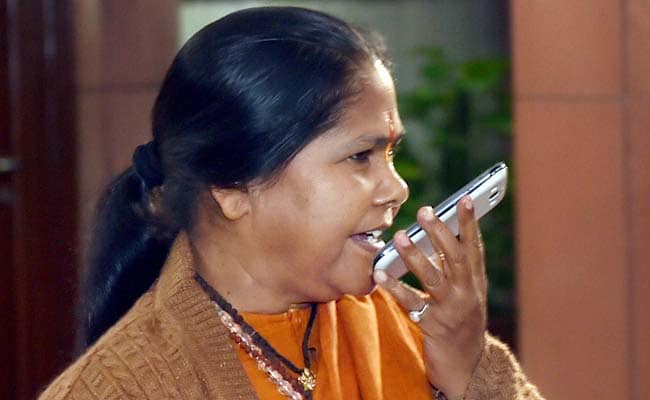 New Delhi:
The controversial minister whose hate speech has provoked demands for her resignation will continue to campaign in Delhi, said BJP leader Venkaiah Naidu today. He is the Parliamentary Affairs Minister.

Sadhvi Niranjan Jyoti
, 47, made abusive remarks about religious minorities at a rally on Sunday in Delhi, which is likely to vote early next year for its new government. Two of her public appearances have been cancelled since her speech on the weekend.
The Prime Minister has said in Parliament that he has made it clear that the sort of language she used is unacceptable, and that since she has apologised, the opposition should allow Parliament, which has been paralysed over the controversy, to get back to work. So far, his appeals - he spoke in the Rajya Sabha yesterday and the Lok Sabha today - have yielded no return.
Like the PM, who said today that Ms Jyoti is from "a rural background" and a first-timer parliamentarian, Mr Naidu said, "They are attacking a village woman and they are afraid because she is affecting people."
The government has made it clear that Ms Jyoti will not be removed from office. Mr Naidu said today that the opposition has moved the goalpost far too often in its demands of the government on the issue of the hate speech. "They wanted the PM to make a statement and he did that. They said PM was not to be seen and he was there," Mr Naidu said.
"If they don't come, we will continue to work," he said, also ruling out accepting the opposition's compromise formula of a resolution condemning the minister in the Rajya Sabha. The Opposition has not allowed the Upper House, where the government is in a minority, to function all this week.
On Sunday, Ms Jyoti had said in her speech at a Delhi rally, "The people of Delhi have to decide if they want a government of
Ramzaadon
(descendants of Ram) or
haramzaadon
(those who are illegitimately born)."