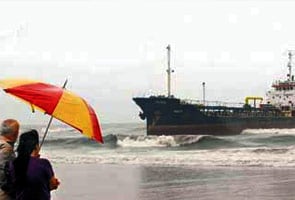 Mumbai:
After MT Pavit, a 77-metre-long, 1000 ton ship, drifted onto Mumbai's shore last week, Defence Minister AK Antony will review the coastal security. Mr Antony will look into how the ship drifted into Mumbai undetected.
The ship sneaking into Mumbai, is a serious security concern. Mumbai is supposed to be on high alert following serial blasts last month.
The Coast Guard, in its report, had said it did not detect MT Pavit as there are no radars.
The Navy will also send in its report on how the ship went unnoticed.
The 21-year old ship, MT Pavit, flying a Panama flag, drifted to Mumbai last Sunday from Ras Al Madrakah in Oman following engine failure and flooding of its engine room. Incidentally, two days before that, the ship had sent out a distress call to Britain's Maritime Rescue Coordination Committee (MRCC), following which Indian Coast Guard authorities had organised a rescue operation. An Indian ship, MT Jag Pushpa, was diverted to rescue the 13 crew on board the Pavit and they were taken to Sikka port in Gujarat.