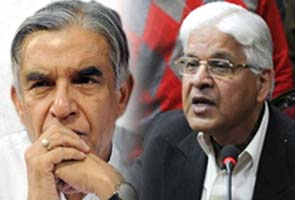 Dropping of
Pawan Kumar Bansal
and
Ashwani Kumar
from the Union Cabinet was the "joint decision" of Prime Minister Manmohan Singh and Sonia Gandhi, the Congress said today, dismissing reports that the action was at the insistence of the party president.
"It has appeared in a section of the media that it was at the insistence of Congress President Sonia Gandhi that the two Ministers were dropped. This perception is not correct. The correct position is that it was the joint decision of the Congress President and Prime Minister Manmohan Singh," party General Secretary Janardan Dwivedi said today.
There were reports that Mrs Gandhi was not keen on the two ministers, both known to be close to Dr Singh, continuing. The two had managed to hold on to their ministries due to the backing of the PM. Both resigned on Friday, reportedly due to growing discomfiture of the Congress president.
Both Mr Bansal and Mr Kumar had been handpicked for the Railways and Law portfolios respectively by Dr Singh himself. Mr Kumar, for one, had found a place in the Union Cabinet within four years of becoming a Rajya Sabha member. He finally took over as Law Minister last October. Meanwhile, Mr Bansal, a four-time MP, was given charge of the crucial Railways ministry after the Trinamool's exit from the government, thus becoming the first Congressman to hold the portfolio in nearly two decades.
After the two ministers resigned, BJP senior leader LK Advani said, "Has the Prime Minister abdicated his right even to decide about his own Cabinet? Today's news reports about the removal of two Union Ministers generally emphasise that, it is Sonia
ji
who has sacked 'two PM's men'.
"Sheer self-respect demands that the PM calls it a day, and orders an early general election," Mr Advani wrote on his blog post.
Mr Bansal resigned a week after the arrest of his nephew Vijay Singla for allegedly accepting Rs 90 lakh for fixing promotion in Railway Board while Mr Kumar quit in the wake of a raging controversy over his vetting the CBI probe report in the coal block allocations scam.