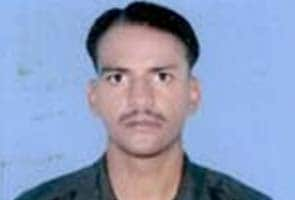 Dadhiya, Madhya Pradesh:
In a small home, in eastern Madhya Pradesh's Dadhiya village, the pride of place is reserved for a colour photo of Sudhakar Singh, in uniform, holding his rifle.
The 30-year-old father of a 4-month-old baby boy had served in the Indian army for 11 years.
Yesterday, within minutes of television channels reporting that two jawans had been killed by Pakistani troops in Kashmir, the dreaded news was delivered to his father.
Sitting on a chair, surrounded by family and well-wishers, he tells us that often, his brave son would tell him not to worry about his safety. "He would tell me, 'Death is inevitable for all of us'," Sachidanand Singh says, his voice uneven.
It was a poor farmer's life that compelled Sudhakar Singh to join the army, his brother says. "There was no money. Not enough to feed everyone. There was no choice. If we could afford it, we would have educated him more and forbidden him from joining the army."
His last letter to his father arrived in October last year. Sudhakar wrote that he was missing his family and wanted to visit home soon.
His coffin will arrive in his hometown tomorrow.