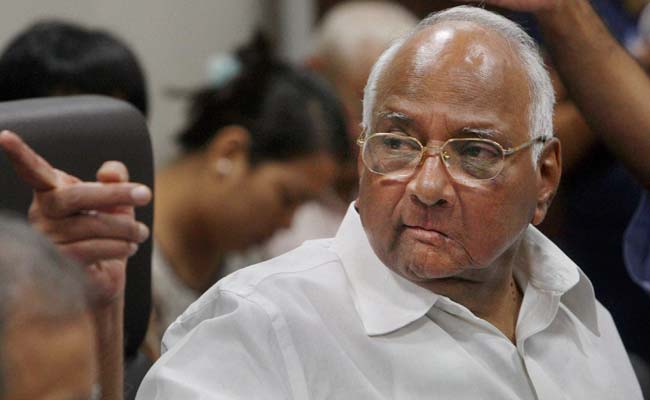 Mumbai:
Sharad Pawar - the chief of the Nationalist Congress Party who recently received Padma Vibhushan, the country's second highest civilian award - has dismissed talks of his a possible alliance with the BJP. He also sharply criticised Prime Minister Narendra Modi for his repeated attacks on Congress, saying in a democratic set-up, one can't talk of "finishing" a national party just because there's a difference of opinion.
"We have heard his (Modi) speeches. His main target is to finish Congress," Mr Pawar was quoted as saying by news agency Press Trust of India. "If anybody occupying such a high office in the country is making statements that he wants to 'finish' someone - we don't believe in that," he said.
Mr Pawar, whose party had broken its alliance with the Congress ahead of the assembly elections in Maharashtra in 2014, pointed out that even his party has differences with the Congress. "But we don't say that the Congress has not done anything in this country right from Independence. We have differences, but we are not taking that to the level of finishing anybody," he said.
The announcement of a Padma Vibhushan for Mr Pawar on the eve of Republic Day had caused a stir, with the Shiv Sena, which runs the government in Maharashtra along with the BJP, ruling out an alliance with the BJP in future. In an oblique reference to Mr Pawar, Sena chief Uddhav Thackeray had taken a dig at the Centre's "Padma awards list". There was speculation that with the Sena bowing out, the BJP might ally with the NCP for the coming elections to the Mumbai civic body - the richest municipal organisation in the country.
But Mr Pawar scotched rumours of his party's increasing closeness to the BJP. "Rumours are being spread that the NCP is growing close to BJP. This is absolutely false news. The NCP will never support the BJP," he said at a public meeting in Goa's Vasco yesterday. "We will never compromise on secularism. NCP will never be with the communal forces."