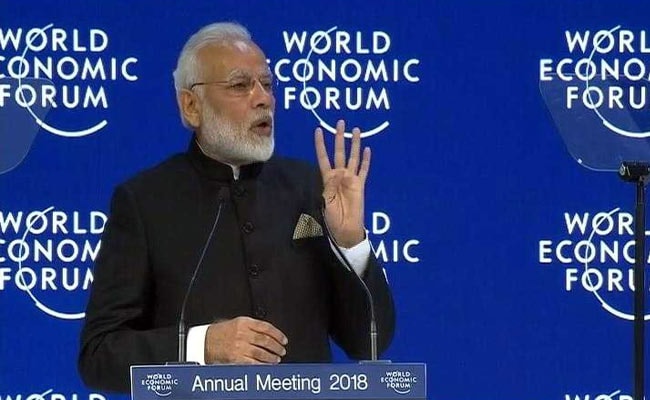 Davos/New Delhi:
At a gathering of 70 world leaders and over 3,000 global industry leaders,
Prime Minister Narendra Modi today warned
that globalisation is facing a challenge from the "rising forces of protectionism" - a comment that's seen as flagging the protectionist stance of the US, under the Donald Trump administration.
Addressing the opening session of the summit, with an audience of political and business elite, PM Modi said, "Forces of protectionism are raising their head against globalisation. They don't just want to stay away from globalisation but reverse its natural flow".
To make his point, he cited "new types of tariff and non-tariff barriers" and stoppage of "bilateral and multilateral agreements and negotiations". "Cross-border investments have fallen short in most countries and global supply chains have also stopped growing," he added.
Canada under Justin Trudeau and Angela Merkel's Germany have already taken a collaborative stance that's in sharp contrast to the US position. Mr Trudeau, who is visiting India in February to boost trade ties, has been holding extensive dialogues on free trade with various nations including India, Japan and Singapore. Canada already has a free trade agreement with Europe.
Ms Merkel has repeatedly spoken out against protectionist policies, saying any move to curb free trade has disadvantages for all. The US, in turn, has accused Germany of protectionism and attempts to profit from free market.
President Trump is expected to speak on his "America First" policy in his address on the last day of the summit.
The US has assured India that its "America First" policy does not clash with India's interest.
Earlier this month, US ambassador Kenneth Juster said President Trump's "America First" policy and PM Modi's "Make In India" initiative are "not incompatible".
PM Modi and President Trump share a warm rapport that has been in the making over a couple of years over phone calls, Twitter posts and several meetings. President Trump has described PM Modi as a "true friend" and expressed admiration for India's political leadership.