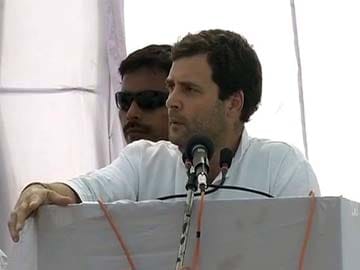 Hamirpur, UP:
The security for Rahul Gandhi's rallies has been revamped after serial blasts targeted Narendra Modi's rally in Patna on Sunday last.
Home Minister Sushil Kumar Shinde has said Narendra Modi, the BJP's presumptive Prime Minister, does not need to be guarded by the Special Protection Group (SPG).
The drill for SPG protected politician Rahul Gandhi, however, has been tightened. He is addressing rallies in Uttar Pradesh today, at Hamirpur in the Bundelkhand region and Deoria in the state's east.
Anti-mines units and bomb disposal squads have been sanitizing the rally venues for the past three days. 60 more personnel have been posted to guard each venue and a constant perimeter watch has been ordered.
A senior Uttar Pradesh police officer told NDTV that security for the Congress vice president, who is one of India's most protected politicians, was completely reworked with an eye on the alleged lapses found in security for Mr Modi's rally in Patna.
"There have been daily anti-sabotage checks on the entire route, right from the helipad. We have tightened access control to check people who are entering the venues. There was no system of passes for the media earlier, but photo-passes are being issued now to secure the media enclosure, which is very close to the stage," said Ratanlal Srivastava, Senior Superintendent of Police, Hamirpur.
He said the anti-mines team and bomb squad were working closely with the SPG squad in sanitizing Mr Gandhi's route and the venues.
After the Patna serial blasts, in which six people were killed and over 80 injured, Bihar's Nitish Kumar has denied allegations that even the most basic precautions were overlooked for Mr Modi's rally. There were no metal detectors to scan people at the venue and no safety and emergency drills were conducted before the rally.