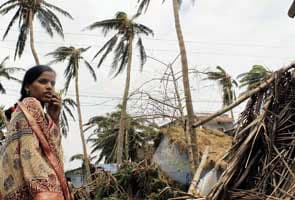 Bhubaneswar:
With Cyclone Phailin moving further inland, there is flood threat in Mayurbhanj and Baripada districts of Odisha and neighbouring states of Chhattisgarh, Jharkhand and Bihar.
As Phailin passed through Odisha, nearly half of Baripada town was submerged due to a rise in water levels in the river, causing panic among the people. Several villages too were inundated as river Baitarani rose past the danger mark.
According to the National Disaster Management Authority (NDMA), the cyclone is now closer to Chhattisgarh-Odisha border and very heavy rains are expected over north Chhattisgarh, Jharkhand, Bihar, east Uttar Pradesh, West Bengal and Sikkim in the next 48 hours.
The officials of the National Disaster Response Force (NDRF) said the wind system is expected to move towards Nepal with heavy rains creating a threat of floods in river Kosi.
Precautionary measures have been taken and rescue teams deployed in the areas that could be hit by cyclone, NDMA Vice Chairman M Shashidhar Reddy said on Sunday. Twenty eight flood prone districts in Bihar are on alert and there is a constant vigil on embankments, canals and reservoirs.
NDRF Director General Krishna Chaudhary said 29 relief and rescue teams are presently working in Odisha, three teams in Bihar and two in Jharkhand. Two teams have been kept as back up in Bihar. 19 teams have also been deployed in Andhra Pradesh, he said.
"We have been able to rescue 1,018 people today from Andhra Pradesh, information provided by the meteorological department helped us to carry out rescue operations in time," Chaudhary said.
Reddy said on Sunday that Phailin's intensity has been reduced significantly to 55-65 kmph and is expected to further slow down to 40-50 kmph.
The NDMA said relief work is being carried out by NDRF teams and 685 km of roads have already been cleared. 1,073 relief camps are working in Odisha at present and 135 in Andhra Pradesh.